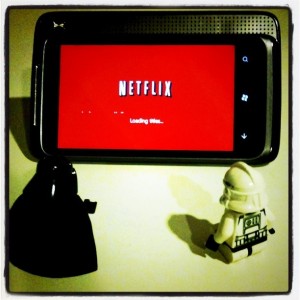 Netflix got their assets handed to them this last year. I love Netflix. I was very sad that I had to cancel my subscription when I moved over. I wasn't mad about the pricing change and while I didn't like the name, I thought the Qwikster strategy was a good one – long term. It obviously wasn't a good one short term. But I still believe in the company and was eager to sign right back up when I got back. In fact, now that I've discovered TunnelBear I've been debating signing up for the streaming only option again.
I know here in the UK they have I Love Film (now owned by Amazon) but I've never even checked it out (until I went there just now to grab the link). I've even done something that I haven't done in over…(I don't even know how many years) I got a Blockbuster membership card. This tells me that I Love Film just hasn't had the same disruptive effect here in the UK that Netflix has had in the US.
It looks like I'll get to dump my Blockbuster card without having to sign up for I Love Film, nor will I have to wait until I move back to support Netflix again. Netflix will be opening up service here in the UK and Ireland starting in 2012 and they've closed some major content deals in the UK and Ireland that could give them a huge boost over.
With some major content deals over here and a market that has yet to be fully disrupted like it has in the US, I can't help but think that Netflix is poised to make a killing here in the British Isles and that this international expansion could seriously bolster the company after such a hard hit this last year.
What do you think? Is Netflix doomed no matter what it does? Is the damage done and the writing on the wall? Or is there time for Reed Hoffman to see his long term vision fulfilled? Can Netflix lick it's wounds and come back stronger than ever? Either way, I think the battle for the British Isles is a crucial battle for them to win.
Related articles