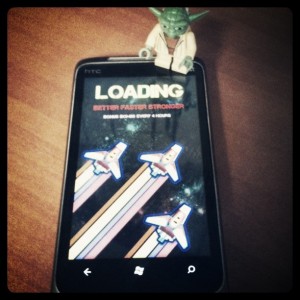 The thing I love about making predictions is that they're almost always wrong. Even when you're right it's a matter of degrees. It's more like playing darts in the dark and you kind of know where the board is. I always make 2 sets of predictions, five, five year predictions that I spend a lot of effort on and a top 10 list where I make a bunch of wild claims with little hope of being right.
This year one of those claims at least hit the dart board:
*6 – Zynga releases an Android based gaming device with all their games on it. Okay, Zynga probably won't do this but some small mobile manufacturer will partner with Zynga and other social game companies to release something that won't do very well.
 Well I was wrong about the company but I was right about someone making an Android based gaming tablet:
Gamestop has come up with a thoroughly thought-provoking method to stop losing business to the ever-expanding mobile market: By jumping into that market with arms outstretched. The company hinted at the possibility of developing a gaming tablet earlier this year; today, Gamestop president Tony Bartel explained to GamesIndustry that they're currently testing the sale and distribution of an unspecified Android tablet which will be Gamestop branded, and paired with a dedicated controller peripheral.
The device will support (and, after a trip through Gamestop's refurbishment center, will be pre-loaded with) mobile apps, but the goal is to allow the tablet to stream full retail releases (assumedly using Spawn Labs' Player software). Bartel also mentioned that the company was working with developers to create titles specifically for the hardware — though we'll probably have to wait until the device's launch next year to find out the identity of those titles, not to mention the tablet itself.
As a game retailer, it totally makes sense, It's just a really big investment to make in a product fighting in a crowded space. Do people want to play full release games on a mobile device? I don't know but we'll see.
As context the reason I made this prediction is because of all the mobile devices that were being made that only allowed users to post to Twitter or Facebook. Think mobile single function devices that we're trying to buck the trend of multi-function devices. Those all failed obviously and I have to wonder if gamers want to be locked into a Gamestop device. They would have to be able to offer proprietary content.
Let's see how the rest of my prediction pans out.