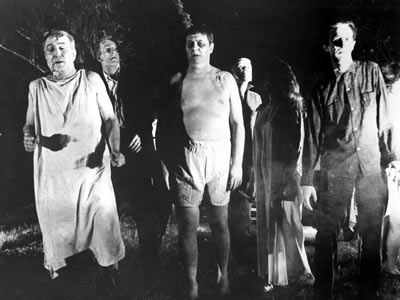 On the WE Studio D, Thinkers & Doers blog this last week we posted the three part Zombie Media Trilogy. When we talk to companies we see a much bigger problem with social media adoption than just how do we get a blog, Facebook page or Twitter account started. The bigger problem is that no one seems to be looking at the much bigger problem of how do you truly create a scalable system to get the most out of social media. This is the first part in our effort to help people understand the larger problem.
Here are some highlights from each post. Click through to check out the complete posts. Let me know what you think.
The Coming Wave of Social Media Zombies
Now that companies are starting to show results with social media, the rest of the early majority and late majority adopters are going to continue to pile on. They're going to try and strap on social media to their existing efforts and realize that they can't sustain these efforts. Worse yet, they'll launch these efforts with no thought to what to do with their new fans, friends and followers (assuming they get any to begin with).
The Top 10 Social Media Books You Have to Read if You Are a Zombie
# Naked Conversations About Zombies – How zombies are changing the way businesses talk with customers.
# The Zombie Groundswell – Winning in a world transformed by zombie technologies.
# Zombies Engage – The complete guide for zombies to build, cultivate and measure success on the Web. Foreword by Zombie Kutcher.
What does zombie media look like? Empty, vacuous Facebook pages and Twitter accounts devoid of conversation. [Warning] Zombie accounts often have lots of content flowing through them, but no one is there. It's brainless.

Is zombie media the same as social media spam? No. Unlike most social media marketing, social media spam has a deliberate strategy and better ROI.
:Screenshot: timeinc.net
Similar Posts:
# of Comments 5

# of Comments 3

# of Comments 19
Scridb filter