There is a common concerns around the web right now. People are rightly concerned about another bubble. Startups are springing up, gathering users and being aquired with no other revenue model than AdSence (if that). Often times these startups are being acquired by other startups that don't even have a revenue model of their own.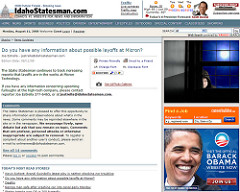 Why the insanity? CPM. Cost per thousand (M is the Roman Numeral for thousand). Media buyers live and die by CPM. Ad rates are based on it, fiscal budgets are centered on it.
There is even a growing concern for the lack of return on Social Media Adverstising. Ads placed on blogs and social networking sites don't seem to be yeildingvery high click thru rates.
What gives? Where's the promise of Social Media Marketing (SMM)??
The problem isn't SMM, it's you. You're lazy.
In campaigns I've run and been involved in, advertising on blogs and social networking has been very successful, if done correctly. You can't take the same attitude that marketers have taken for decades: more eyeballs. It makes me sick. Why isn't your social media advertising netting out the promise of higher click through rates? Because your campaign sucks and you don't understand anything about the community.
You throw some generic campaign up, the same copy you used in print and wonder why no one clicked on it. Quit being lazy! Take some time to understand your customer, take even more time to understand the community you're approaching and figure out how you can add some value. Heck spend a few hours looking threw blogs and social networks; which ads get your attention?
Similar Posts:
# of Comments 6

# of Comments 6

# of Comments 4
Scridb filter