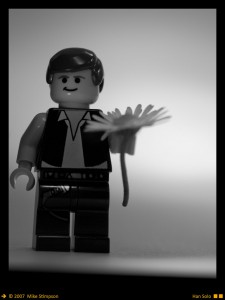 I've been working in New Media/Web 2.0/Social Media for 7 years now. The first 3-4 were pretty rough. It was hard to sell in the vision that many of us saw. The last 2-3 years has been amazing. Companies are practically falling over themselves to implement social media. It's a bit counter intuitive that the recession would spark so much growth in this industry. Except for the fact that social media is so much more cost effective on many levels.
But now I'm wondering what comes next (I always wonder this actually).
Two years ago this month we saw the market drop 777 points (and things only got worse from there). That was two years ago and I  believe that we have 5 more years of recession left. I don't know if things will get worse before they get better (I hope not) but I do believe they won't get better for another 5 years.
I've read a lot of reports lately about some perplexing trends in the economy.
Corporate profits are reaching pre-recession peaks
More jobs are being created but despite high unemployment there are no qualified applicants
Many people are flooding back to college, internships are getting more competitive and some fear an education bubble
I'm no economist and I don't even pretend to be one but I've recently written two posts on the longer term affect these trends will have on a subset of the population that isn't able to adjust to the massive changes we've experienced or are yet to come.
At the end of last year I made 5 predictions for the next 5 years in social media. My very first prediction was how the recession would fuel the growth of our industry (this is just an excerpt):
The Recovery Will Accelerate Social Media Investments-
The recession is not over, but it will feel like it's over for most of us. The recession, however, will flatten out in most industries and begin to recover in several key industries. This will feel like a full recovery to most everyone. Everyone except those who still wont find jobs in 2010. A jobless recovery is not much of a recovery in my opinion.
But this partial recovery will dramatically accelerate social media investments. Those companies that spent a little will spend a lot and many who didn't spend any will make at least small, if not dramatic, investments beginning in 2010. As the market truly recovers over the next 5 years the investments will grow dramatically. The disruption we've felt over the last 5 years will only be matched by the level of adoption we'll see over the next 5.
I've thought a lot about what the next 5 years will look like and I am still going to do a lot more thinking. Here's where I'm at today:
Spending will continue to increase at year over year rate that will surprise all of us (I hesitate to say exponential but close to it).
I think the job problem will not change anytime soon. Companies will try to automate and outsource more and more.
This will lead to agencies doing more and more of the social media work for brands. Good for agencies bad for brands if not done transparently and strategically.
To do this well I think we'll see "Social Media Ambassadors" and more consultants embedded within brands.
Interns will get a lot of experience running social media. This is great for them and bad for brands if they aren't provided proper training and guidance.
What do you think? I'd love to hear your thoughts.
Join the New Comm Biz Facebook Page or follow along on Twitter.

Similar Posts:
# of Comments 19

# of Comments 2

# of Comments 1
Scridb filter