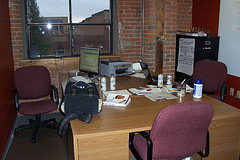 Today's homework assignment is for those of you who have been blogging for *a while*. Now in the blogosphere that could be six months to a year.
I'd like you to take a moment and go through your backlogs.
Back when you were just starting off, back when you thought you knew everything.
Remember that great post you did, that you didn't expect to get any comments and it was one of your most popular? Or that one perfect post that you thought would get a ton of traffic but didn't?
Go back now, with the eyes of experience behind you and try and figure out what went right, or wrong. Was it the topic? Was it just lucky timing?
Whatever it was, I find that revisiting old content in a new post can be a great source of blog ideas. Has there been any changes to the current situation? Do you have any new insight or experiences that you've gained since then?
Use those new insights and old topics for a new blog post.
Technorati Tags: blog, homework, comments, traffic,
Similar Posts:
# of Comments 0

# of Comments 72

# of Comments 0
Scridb filter