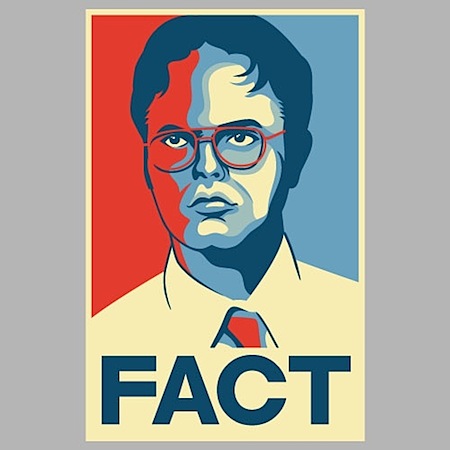 Be sure to read all of @katlen's Social Media Daily Reflection posts
1. businesses don't need enterprise social networking
Truth: The pace and scope of modern business requires that we revisit new and improved ways to collaborate and share ideas internally — especially if someone has information that can help you in the quest for business impact. Not enabling a social enterprise could mean death to your company. (I don't mean to sound dramatic but if you're competitor is doing it, your competitor will beat you.)
2. corporate secrets will be uncovered and tip off competitors and affect stock prices
Truth: What does a social enterprise have to do with this? Corporate secrets could be uncovered in ways beyond technology. For example,  two employees in a bar discuss business over a drink — with a competitor sitting right behind in the next booth, with bionic ears.
3. gen Y workers get it but older workers won't
Truth: In some cases that might be true, but I am not gen Y and I am blogging, tweeting, skyping, video chatting — and in many ways the older generations are adapting very quickly. One of the fastest growing segments on Facebook over the last couple of years included gen X and above. Uh, why wouldn't this hold true in the workplace? Sounds like a big duh to me.
4. social networks aren't secure
Truth: Social networks aren't secure for people who are insecure. The fact is this, if a company is going to enable employees to share ideas around business products and solutions, it should be in a social environment behind the firewall. In this case, I can guarantee that IT will uphold the security standards they have in place.
5. it's like Facebook
Truth: The functions might be like Facebook, but would you really post those videos of you naked with a lampshade dancing on a table to Corey Hart's "I wear my sunglasses at night?" Yea, I didn't think so, BUT uploading videos from that recent presentation you did, or sharing a point-of-view on a recent industry development is definitely right up there.
6. you're putting money in it, so it better get adopted
Truth: It likely will be adopted but it's going to depend on the corporate culture. Recently I presented at an event where I was impressed to find that a national insurance company had implemented a social intranet experience, and experienced high-adoption out the gate with posts garnering upwards of +20 comments and nearly hundeds of thumbs ups / thumbs down. Meanwhile at an agency that I worked at a few years ago — a PR agency to be exact — we weren't generating that kind of engagement at the time of roll-out. Keep driving value and adoption will be an outcome, but it might take time.
7. it's not for the big boss
Truth: Have you read Open Leadership by Charlene Li? What do you think she would say to this? Right, I thought so. Leadership has to find new and fresh ways to inspire and lead their workforce, and blogging or holding virual office hours (for remote workforce) are a couple of ways to achieve this.
8. makes sense for things like corporate culture, but not for true internal business tasks
Truth: I can't tell you how many times I consulted wikis or case study areas that were part of the social infrastructure when I was at an agency. If I recognized the name on the timestamp of who uploaded the file, and it was that scary-smart colleague on the team, you bet I would refer to that as a resource if I was working on a pitch. If we won the business then BAM right there business impact and ROI.
9. employees will waste time
Truth: Guess what, if they will they probably already do. Smartphone penetration is high and if someone is eager to go out on Facebook, believe me - they will and can.
10. it's just a fad
Truth: The Internet is a fad.