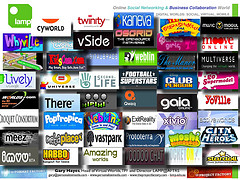 It's been a while since I've had the opportunity to speak at an event. I really enjoy the opportunity to share the work I've been doing and get feedback from a live audience but most of all I love getting out and meeting all of you.
If you're in the NY/NJ area you are invited to register for the event. Details are listed below, or on the BOSSdev website.
I've never been to NYC before so I'm really excited. I'm finally going to get to meet PR pro and blogger extraordinare, Steve Rubel. Steve was a big influence on me early on in this space so it will be good to finally meet him IRL.
Yesterday on FriendFeed Robert Scoble posted an open invite for anyone in NY to check out the Fast Company office. I'm going to try and take him up on that offer.
So if you are in the area, be sure to let me know. I've purposefully left some extra time to try and get out and meet some people.
BOSSdev Social Media Marketing Breakfast
"Social Media Strategy: Achieving Real Results in a Virtual World"
Space is limited
Date: Jan. 29th, 2009
Time: 8:30 AM – 12:30 PM
Location:
Parsippany Hilton
One Hilton Court
Parsippany, NJ 07054
973-267-7373
Social media is here to stay, and it has an enormous effect on the depth and speed that information is disseminated. There's no denying the powerful influence this has on how companies need to approach communication, collaboration, multimedia, and entertainment.
Social media is the building block of the online world - and the content generated by casual users is expanding faster than any other kind. Those who truly want to succeed need to understand how it all works.
Regarding analytics, it makes sense to want data that proves and validates the impact of social programs. This helps to justify your investment by providing data for ongoing modification to maximize effectiveness.
Now, you can discover advantageous new insights on social media channels through real world case studies along with metrics of results. The next BOSSdev seminar will address these relevant issues - and more - to keep you ahead of the curve when it comes to this potent and expanding force.
Speakers include:
Tac Anderson, Social Media Marketing Manager, Hewlett Packard
Dave Evans, Author of "Social Media Marketing: An Hour a Day"
Cosmin Ghiurau, Social Media Analyst, BOSSdev
Korye Logan, Digital Marketing Strategist, BOSSdev
Andy McDonnell, Business Development Director, BOSSdev
Sam Swenson, Social Media Analyst, BOSSdev
Justin Wyman, Director, Collective Intellect (Social Media Analytics)
Image by Gary Hayes via Flickr
Related articles by Zemanta
Similar Posts:
# of Comments 1

# of Comments 12

# of Comments 12