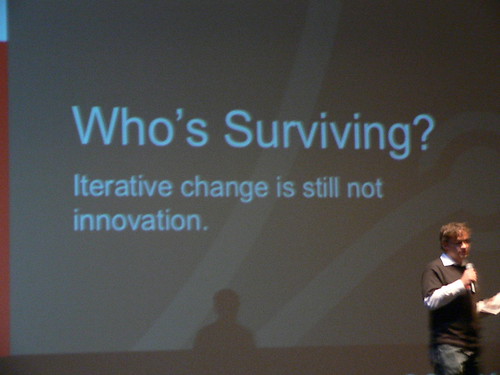 Paul Dunay wrote a very compelling post that if followed would lead to me being fired:
Fire your Director of Social Media! | Buzz Marketing for Technology
Ideally, I think you need to treat the role of the Director of Social Media as a way to activate the entire organization socially and then when that's complete – move on to something else. What's your view?
My title according to LinkedIn is Social Media Director and I agree with Paul.
My real job title is Director of Digital Strategies.
My title when I joined HP was Web 2.0 Strategic Lead.
My real title was Marketing Manager.
Other job titles I've had were Store Enigma and El Presidente. But I've had a non-traditional career path.
Why do I change my job title?
I like cool sounding job titles
Your job title should mean something
I want people to know instantly what it is I do when they hear my job title (okay Store Enigma is the exception). And I can change my title whenever I need to. Paul's right in a year or two I won't go by Director of Social Media. I actually think I'll change my title to World Domination Strategist.
Paul's post hits on another key factor: Social media shouldn't live in silo's. I've said it before but, no one owns social media. I do not agree with some that social media should have it's own department. In fact I think we need fewer departments than we have today. I think there should only be one communications department not separate marketing, PR and internal comms groups (internal comms is different from the HR operations role BTW).
The role of social media director, my role, is a temporary solution that will eventually become obsolete. If I do my job right, my role will eventually go away. So what will I do next? I told you Director of World Domination.

Similar Posts:
# of Comments 46

# of Comments 8

# of Comments 13
Scridb filter