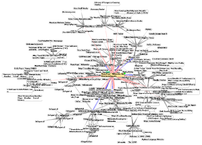 So I thought I'd explain the title of my blog: NewCommBiz
I like things that are new.
It doesn't even really matter what it is, just new stuff in general really interests me.
How/why is this new?
Where did the idea come from?
Who thought of the idea?
Is this going to be a success?
Who will ultimately use this?
How will they use it?
I love communication.
This is what I got my undergraduate degree in.
The way people communicate.
The way groups communicate.
The way communication effects our perceptions.
The way communication effects our culture.
Interpersonal, Small group, Mass Media, Computer Mediated.
Communication Theory.
Communication in practice.
I am fascinated by business.
It's what I got my Masters degree in.
Business models.
Business innovation.
Business management.
Business lifecycles.
Business transitions.
The Trifecta
Now if you want to really get me geeked out, combine any of the above in any possible combination.
The effect the Internet is having on the media business.
Mobile phone adoption.
New Internet Businesses.
The information explosion and how knowledge workers aggregate and stay productive.
2 out of 3 ain't bad
But really you don't have to have all 3 to get me excited.
New business ideas that have nothing to do with the Internet.
Old communication business models.
General business challenges.
Old communication technologies.
Why am I telling you all of this? I don't know really. Part of me thought you might be interested in what makes me tick. But partly because I'm seeing a lot more of the 2 out of 3 category.  At Highway 12 Ventures I see a lot of new businesses that have nothing to do with the Internet.  At HP I'm doing more and more "traditional" marketing. Things like CRM and metrics.
I find all of these things interesting and they really allow me to learn and grow. Hopefully this results in me being a better, more well rounded business leader.  I will probably even blog about some of these things, even though they may seem a little off topic from my traditional topics.
I hope you find it as interesting as I do and can learn something along the way.
P.S. To be fair the reason I'm interested in the traditional stuff is so I can see how new communication business ideas apply

Technorati Tags: new media,communication,business models,business,Internet,Mobile,Marketing
Image via Wikipedia
Related articles by Zemanta
When did we start trusting strangers?
Similar Posts:
# of Comments 6

# of Comments 2

# of Comments 0
Scridb filter