I'm sure by now everyone's heard of the Domino's Disaster. Short version: employees took disgusting video of them in the store, then posted it on YouTube. Millions of views later….
A Video Prank at Domino's Damages Its Brand - NYTimes.com
As the company learned about the video on Tuesday, Mr. McIntyre said, executives decided not to respond aggressively, hoping the controversy would quiet down. "What we missed was the perpetual mushroom effect of viral sensations," he said.

In social media, "if you think it's not going to spread, that's when it gets bigger," said Scott Hoffman, the chief marketing officer of the social-media marketing firm Lotame. "We realized that when many of the comments and questions in Twitter were, 'What is Domino's doing about it' " Mr. McIntyre said. "Well, we were doing and saying things, but they weren't being covered in Twitter."
All of my SM/PR friends out there are having a field day with this, and rightly so.  The decision to not respond was a fatal error. But there's something else people are missing.
The widely held belief is that you can't prevent mistakes like this only prepare for them.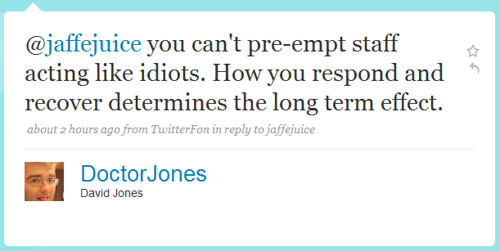 I get this but I still have to wonder:
What would happen if companies trained ALL of their employees on social media?
Yes it would cost some money to develop some training that could then be pushed down to the front line. But it would be cheaper than the repercussions Domino's is facing now. Even if it's just another video they watch when they're taking their updated OSHA training. Even just the basics that tells employees yes upper management knows what Twitter, Facebook, Blogs, YouTube, etc are. And yes we are watching. And more importantly our customers are ALWAYS watching. Don't be stupid!
I guarantee that if companies did this, these unintentional screw ups would be reduced to almost nothing. Yes they'll still occasionally happen and you won't be able to avoid the malicious attacks by disgruntled employees but you could prevent the majority of them.
On top of that enabling your employees to participate in social media enables an army of marketers and customer support reps to be there when you can't.
BTW I can't help noting the irony that the Domino's story came right after I blogged about Digiorno's using social media to further their attack against delivery pizza. They have to be loving this.
Related articles by Zemanta
Scridb filter