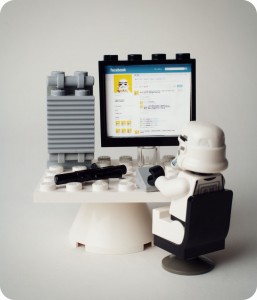 First off I have to say that I haven't been a big fan of Alltop. I like the idea and have a ton of respect for Guy Kawasaki but I've just personally never found anything useful there. That is until today. Alltop released Alltop.Futurity.
How to stay on top of research from universities
Duke University, Stanford University, and the University of Rochester created a consortium of universities called Futurity. All the partners are members of the Association of American Universities (AAU) or of the Russell Group. Futurity then publishes the very best research news from these universities. We then aggregate this news into a easy-to-scan site called Futurity.Alltop.
I love university research. Probably because part of me thinks it would be cool to be a college professor that got to do research all the time. But then the rational part of my brain knows that it's probably not all that cool and I suck at statistics.
After checking out Alltop's Futurity site I saw this little gem. While it's only a study of one business and it's Facebook page I thought it was still pretty cool.
Futurity.org – Turning Facebook fans into loyal customers
The study found that compared with typical Dessert Gallery customers, the company's Facebook fans:

* Made 36 percent more visits to DG's stores each month.
* Spent 45 percent more of their eating-out dollars at DG.
* Spent 33 percent more at DG's stores.
* Had 14 percent higher emotional attachment to the DG brand.
* Had 41 percent greater psychological loyalty toward DG.

While the results indicate that Facebook fan pages offer an effective and low-cost way of social-media marketing, Dholakia says, the results should be interpret the results cautiously.

"The fact that only about 5 percent of the firm's 13,000 customers became Facebook fans within three months indicates that Facebook fan pages may work best as niche marketing programs targeted to customers who regularly use Facebook.
I didn't read the whole research report so I have to wonder if this is really a cause and effect. Were the people who ate at DG's more likely to join a Facebook page or were people who joined a Facebook page more likely to increase the amount of times they ate at DG's? My experience tells me that it's both. Your pre Facebook page fans are most likely to become Facebook fans and if you're effectively marketing on Facebook by engaging with your fans and offering deals then you're probably going to see an increase in return visits.
BTW did I mention the New Comm Biz Facebook Page?
I disagree with the conclusion that Facebook should only be used for niche marketing. Instead, if Facebook fans are really more likely to spend more then DG's should look at ways to convert customers to Facebook fans. I've also seen Facebook pages used effectively in all verticals with big and small companies. Facebook is not niche anymore.
What do you think? Has anyone else seen customer loyalty increase with Facebook fan pages?
Join the New Comm Biz Facebook Page or follow the Twitter account.
Similar Posts:
Scridb filter