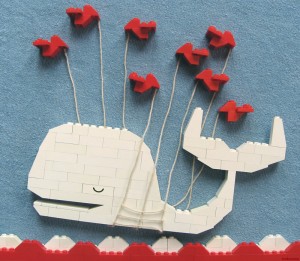 [UPDATED: Sean Garrett a Twitter community manager pointed me to the correct Twitter Facebook account. Changes made below]
We talk a lot about how companies should use Twitter and Facebook but have you ever looked at how Facebook and Twitter use their own services? What about how they use each others services?
Here's some quick stats:
You'd expect each service to be more popular on their home turf and the spread between 3 Million and 8 Million kind of represents the spread in total users for each service, so that's all good.
Twitter is at a bit of a disadvantage on Facebook because if you go to http://facebook.com/twitter you get a page prompting you to hook a Facebook Page up to your Twitter account. This is so you can post to your Facebook page and have it flow to Twitter. This robs Twitter of the obvious domain name for their Facebook Page maybe this is why @facebook is an unverified account and @twitter is. #payback
Lesson 1: Take your own advice
But here's what I found most interesting. Twitter does not engage with their followers on Twitter. They post a lot, it's very helpful stuff and I'm not saying this is wrong - although Twitter's own Twitter 101 best practices says
Listen regularly for comments about your company, brand and products—and be prepared to address concerns, offer customer service or thank people for praise.
And…
While you shouldn't feel compelled to follow everyone who follows you, do respond to some questions or comments addressed to you.
@twitter doesn't seem to be following their own advice.
[UPDATE] after this post I was contacted first by Matt Hicks a Facebook PR & Social Media Manager (on his personal account not a Facebook account) thanking me for the shout out.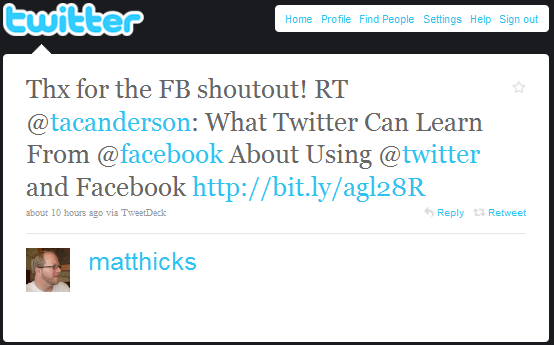 I was then contacted by Sean Garrett (again on his personal account not an official Twitter account) pointing me to the correct Twitter Facebook page.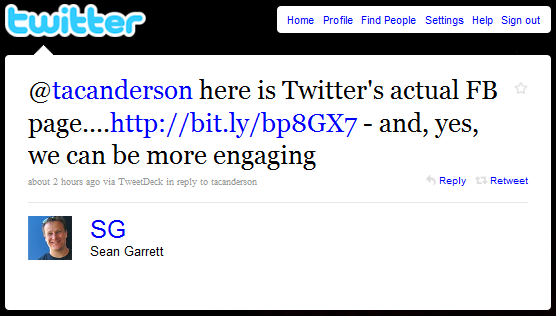 @facebook on the other hand is engaging with followers, not everyone but they're thanking people, retweeting people and answering people's questions. Facebook seems to be using Twitter better than Twitter is. The fact that they're even using Twitter is pretty impressive.
Lesson 2: Go where your customers are regardless of platform
I remember when Microsoft (who wasn't a client at the time but is now) started posting videos on YouTube. At the time they had SoapBox (which they've since killed) and some critics questioned why they were using a competitors product. Bottom line was the people Microsoft wanted to reach were on YouTube. They were smart enough to go where their customers were.
Facebook has figured that out as well. The 8 million fans on their own platform is great but they know there are a lot of conversations happening about Facebook on Twitter. There could even be more conversation *about* Facebook on Twitter than there are on Facebook, since people on Twitter like to talk about that stuff and people on Facebook like to farm and poke. (Sorry couldn't resist.)
Twitter, without doing anything has the same amount of fans on Facebook as Facebook has followers on Twitter and they're trying.
Recommendations:
Twitter is obviously not a client and did not ask for my help but I'm an annoying blogger so I can give advice when none was sought.
First: Twitter needs to start taking their own advice and be a little more engaging on Twitter. They don't (nor could they) reply to everyone but they should start with at least a core group of influencers and work out from there.
Second: Twitter needs to stop thinking that they're competing with Facebook, they're not, and take advantage of the fact that probably every single Twitter user is on Facebook. Get over there and support your fans. (Apparently the real Second tip is I need to find the right pages first.)
Third: By joining Facebook you will could more effectively reach the business people you're trying to target with your Business 101 site and other non-early adopter types who might actually like Twitter if they got past the hype. (I would recommend that they add the Business 101 information to their Facebook page.)
I for one have a new level of respect for Facebook and their efforts and know that I'd also love to see Twitter on Facebook also love that Twitter is on Facebook too.
Similar Posts:
# of Comments 6

# of Comments 19

# of Comments 2
Scridb filter