If you haven't noticed, I like Posterous. I think they may have single handedly made email relevant for me again. Here's my Posterous blog. I also like using tools in ways they weren't meant to be used. That's the case with this post. Please note that none of these apps were designed for mobile blogging so my review of them is completely irrelevant to the real reason people made them.
The main way I use Posterous is for mobile blogging. If I'm at me desk I'd just as soon use Windows Live Writer with the Zemanta plugin. Most of my mobile blogging is done from Byline. Byline is an amazing app that synchs with Google Reader making my RSS feeds portable. Byline is my secret weapon for reading hundreds of blog posts a day. But Byline has another cool feature: Mail Link to this Page. The mail a link option in many mobile news readers turns them into a mobile blogging app thanks to Posterous.
Last night Louis Gray turned me on to two new apps. Regator and MeeHive.
My problem with Byline is that it's a little ugly for blogging. Heck it's even a little ugly for an email. The link it sends is the feed proxy link not the Web URL or permalink.
My typical process is to copy and paste a section of the post, then select the email a link option. This redirects me to the iPhone's mail program which I have linked to my Gmail account. I then paste the pull quote, edit the message of the email, which is the title of post and usually add a sentence or two of my own thinking.
Bellow is a screen shots of a post I did with Byline. As you can see the link at the end of the article is kind of ugly.
Byline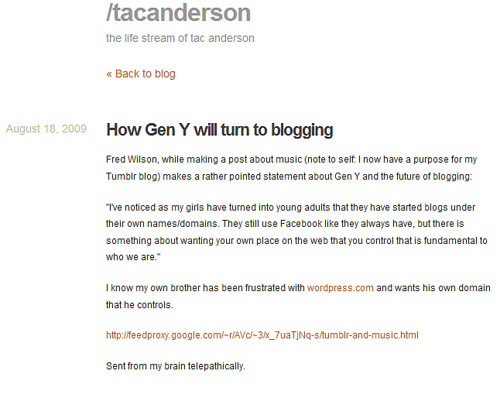 It's a little dirty but it works. Posterous is even kind enough to convert wordpress.com into a link even though I didn't send it over than way.
Next are two quick posts done with MeeHive and Regator:
MeeHive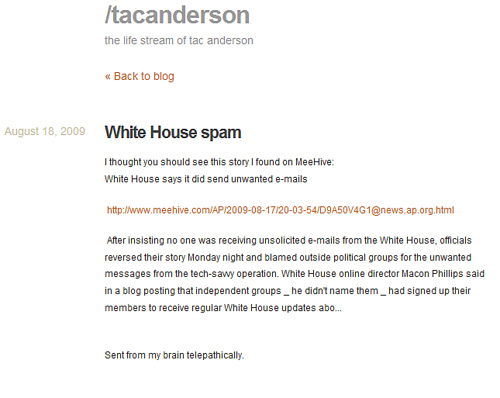 Regator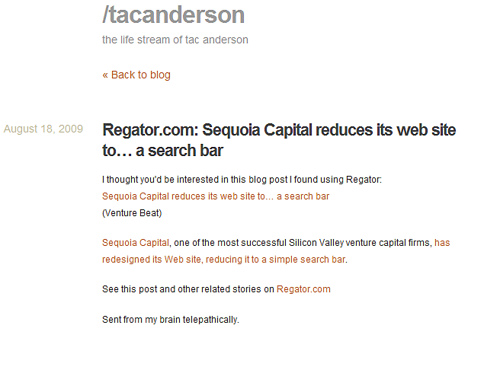 Regator wins hands down for pretty links. Even if you're only sending an email and not blogging it seems like a hyperlink would be nicer to get than a raw proxy link. Granted if they view email in plain text then it will separate the link out anyway but it can't be any worse.
MeeHive did a cool thing though when I highlighted text it inserted that into the email. That was cool.
No real conclusion here, I'll continue to use whatever app I'm in to do quick blogs but I have to wonder if, as blogging continues to get easier, this is something app builders will need to take into account.
Anyone else out there mobile blog? Any tips or tricks?
Similar Posts:
# of Comments 3

# of Comments 1

# of Comments 3