I think it's well established that I geek out about weird things when it comes to content/communication on the Web. So I hope you'll bear with me while I yet again show my geeky side.
For those of you not familiar with URL shorteners; A URL shortener is a servive that takes really long URL's and turns them into much shorter URL's, making it easier to share a URL without it getting broken.
TinyURL is the first URL shortener I was familiar with. With the rise of microblogging services like Twitter, which limits your posts to 140 characters, URL shorteners have seen a tremendous up take in use.
bit.ly is the most recent URL shortener to hit the market and has packed some tremendous innovation into its service. For a full report check out Read/Write Web's glowing review.
Example: When I want to share a blog post from my HP blog, which, like many corporate websites has insanely long URL's, I can either try and send this URL:
http://www.communities.hp.com/online/blogs/marketing/archive/2008/07/22/farewell-vince-hp-s-1-blogger.aspx
Or I can use bit.ly and share this URL http://bit.ly/2I0DwA.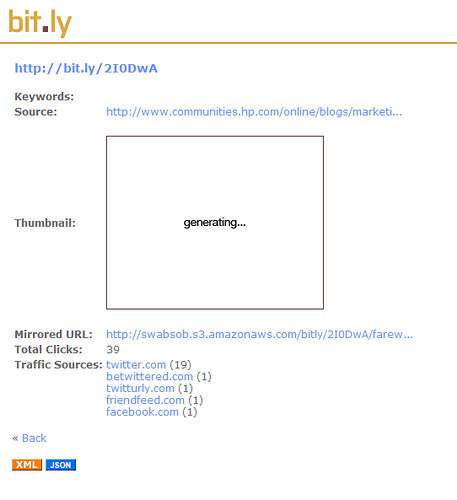 Among the many cool features with bit.ly is the ability fo you to see how many people are clicking the link and where they are comming from. bit.ly is also supposed to generate a thumbnail of the site but that doesn't seem to be working at the moment.
As you can see from this photo, most people clicked on the link in Twitter, which is where I shared the link. The link was also accessed via Twiiter app betwittered and URL tracking site twitturly. The link then flowed on to my FriendFeed page where another peson accessed it and then went onto Facebook via the FriendFeed app I have on my Facebook profile where yet another person accessed it. There are also about 16 people that clicked the link that bit.ly couldn't track.
To me this is fascinating (like I said, I'm a geek about this stuff). bit.ly is a free service and only stores the last 15 links you shortened. I would gladly pay for a premium service that stored more URL's and gave me a time line for when people clicked.
I can't wait to see what other features bit.ly comes out with.

Similar Posts:
# of Comments 2

# of Comments 5

# of Comments 0
Scridb filter