10 Features That Will Make Twitter Better
A lot of people are waiting for Twitter to make "improvements" to the service. I for one think that Twitter is waiting for entrepreneurs to build on top of Twitter. There's a really good reason for this: Twitter is what it is and shouldn't be anything different.
People want features like threaded discussions.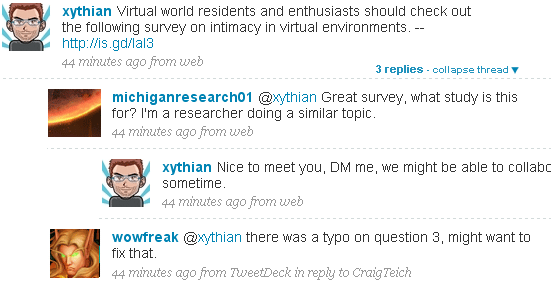 There's really no great way for Twitter to do this. You would have to do something like FriendFeed does which is pull the whole conversation back to the top or post replies to the original tweet which is already lost in the stream. You can do the collapse option here but I can't believe this is that easy. I also believe it would cause problems for apps like TweetDeck and Twhirl which represent a large percentage of how users access Twitter.  This is a perfect opportunity for a startup to build a new interface that tracks conversations and allows people to turn Twitter's functionality into a whole new service.

Similar Posts:
# of Comments 6

# of Comments 0

# of Comments 9