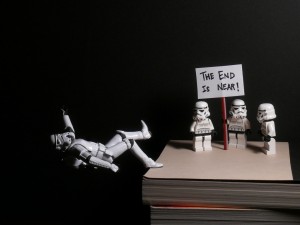 This is last speculative predictions post you'll read here for a long while. Promise. This year I'm taking the same format as I did last year, I posted my really big predictions for the next 5 years yesterday and today I'm following it up with a more speculative top 10 predictions for the current year. You can see last year's top 5 for 5 post, my top 10 post and the report card of those predictions.
Today's post is purely fun, purely speculative and in some cases more what I wish would happen than what I really think will happen. But enough hedging let's get to the bets:
Facebook goes public at the end of the year: This is the exact same prediction I started with last year but this year I think Facebook may see SEC pressure based on the amount of activity happening in the secondary markets.
Twitter reaches sustained profitability but does not go public. Yes, basically the same prediction as last year.
Amazon's Android app market does better than Google's app market but we don't know how much better because Amazon won't give numbers.
Google and Facebook both try to buy Quora. Quora says no.
We see major consolidation in the Social Enterprise space. Yammer gets acquired.
Zynga releases an Android based gaming device with all their games on it. Okay, Zynga probably won't do this but some small mobile manufacturer will partner with Zynga and other social game companies to release something that won't do very well.
Foursquare makes an acquisition in the social coupon space.
Twitter makes a major overhaul to Twitter Search.
We see a social network that started in one of the BRIC countries take hold in the US & EU. Everyone calls it a Twitter killer.
We see a huge drop in cable subscribers numbers and cable networks like ESPN & Turner start moving to the Web, either with their own streaming offering or in partnership with Netflix and Hulu.
Alright, there you go. Let's see what happens. Arguing in the comments is encouraged.

Similar Posts:
# of Comments 4

# of Comments 2

# of Comments 7
Scridb filter