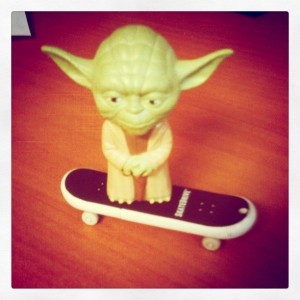 To quote Master Yoda, "Careful you must be when sensing the future." & "Difficult to see. Always in motion is the future."
Unlike my Top 5 Predictions for the Next 5 Years post where I look at the bigger trends, these Top 10 Predictions are a little more like playing fantasy football. These post are purely speculative and in some cases more what I wish would happen than what I really think will happen.
You can follow all the posts about previous predictions I've made by checking the predictions tag. Below, in reverse chronological order, starting with the most recent year and working back in time, are all of the Annual Top 10 Predictions I've made, with links back to the original posts.
Top 10 (Outlandish) Social Media Business Predictions for 2012
Top 10 (Outlandish) Social Media Business Prediction for 2012
1 – Twitter is acquired by Yahoo!
This is just crazy stupid but it actually makes sense (at least as much sense as anything else that happens out there). Yahoo is a big media company. Twitter is the future/now of media. If Yahoo bought Twitter and left them alone, much the way they did with Flickr, or, even better yet, put them in charge of Yahoo's growth strategy, there's a lot of potential synergy.
2 – The top three smart phones by the end of the year will be an Android Samsung, iPhone 4S, and Nokia Windows Phone, in that order.
Samsung is killing it with Android and I believe is on target to pass the iPhone as leading smart phone, but I also believe this will be a really strong year for Nokia's WP7. (Full disclosure, Microsoft, Windows Phone is a client and my employer does work for several different handset and telecom companies around the globe.)
3 – Social Media Analytics Backlash
For all the growth in social media analytics and as important as I do believe it is, I think we'll see a backlash against social media analytics and measurement. I think both consumer privacy concerns as well as the cost implementation will drive this. If you're at a smaller company, the truth is that sophisticated social media analysis might not be worth the effort and the cost to calculate. At least not until the tools get more sophisticated and integrated with other enterprise tools.
4 – Facebook rolls out a major update to their search function.
Facebook onsite search sucks. It's dreadful really. You get better results from the Bing partnership, which points you off Facebook, even when you're looking for pages within Facebook. With all the content their absorbing in the form of links from news sites, I believe they'll get serious about search this year. (Full disclosure, Bing is a client.)
5 -Google+ new user growth goes flat.
Google+ has a place in the market but I believe it will be a distant 3rd in the market. I think they have almost reached saturation with the über geeky, early adopter set that were drawn to FriendFeed and like the same functionality you see in Google+ but I think their active new user growth will flatten even while their usage from that crowd continues to grow.
6 – Hootsuite Gets acquired by large enterprise software company.
Hootsuite is killing it. They're growing like crazy, haven't raised hardly any money and I predict Oracle, SAP or other large enterprise company acquires them as a way to catch up to the work that IBM has been doing. Alternatively we could see Seesmic sold for a bargain. (I think Loic is desperate to sell and move on.)
7 – Automatic (makers of WordPress) IPO
Automatic has built up a huge company with several acquisitions, some huge media company, clients and I think this is the year they go public.
8 – LinkedIn acquires Yammer
I'm cheating on this one a little because I already speculated that LinkedIn should acquire Yammer and Yammer getting acquired was one of last years predictions. But if we're being outlandish, I had to include it again.
9 – Brick and mortal roll up
A private equity firm comes in and purchases Barnes and Noble and struggling Best Buy. They consolidate they two retail experiences with B&N mini stores inside Best Buy stores or expanded tech departments inside B&N stores. Not exactly social media, but partly a consequence of the rise of social media.
10 -Zynga releases an API and an enterprise gamification app.
I don't even totally know what that means but I had to include something about gamification and I was running out of crazy ideas this morning. Maybe as a backup, they'll settle for launching some games on LinkedIn – OfficeVille anyone?
Alright there you go. WHat do you think? Any of these have even the slightest chance of happening?
2011, Top 10 Predictions
Yet Another 10 Social Media and Tech Predictions for 2011 
See also 2011 Social Media Predictions Report Card 
Facebook goes public at the end of the year: This is the exact same prediction I started with last year but this year I think Facebook may see SEC pressure based on the amount of activity happening in the secondary markets.
Twitter reaches sustained profitability but does not go public. Yes, basically the same prediction as last year.
Amazon's Android app market does better than Google's app market but we don't know how much better because Amazon won't give numbers.
Google and Facebook both try to buy Quora. Quora says no.
We see major consolidation in the Social Enterprise space. Yammer gets acquired.
Zynga releases an Android based gaming device with all their games on it. Okay, Zynga probably won't do this but some small mobile manufacturer will partner with Zynga and other social game companies to release something that won't do very well.
Foursquare makes an acquisition in the social coupon space.
Twitter makes a major overhaul to Twitter Search.
We see a social network that started in one of the BRIC countries take hold in the US & EU. Everyone calls it a Twitter killer.
We see a huge drop in cable subscribers numbers and cable networks like ESPN & Turner start moving to the Web, either with their own streaming offering or in partnership with Netflix and Hulu.
2010, Top 10 Predictions
Top 10 2010 Social Media Predictions
See also: 2010 Social Media Prediction Report Card 
Facebook goes public at the end of the year.
Twitter reaches profitability but does not go public.
There's a huge developer backlash against Twitter because they keep building functionality several apps have pioneered.
Murdoch delists Newscorp sites from Google (actually I doubt he's ever going to do this but I want him to, just to see what happens).
Dozens of new journalism startups spring up and quickly garner attention as they hire armies of laid of journalists.
Murdoch relists Newscorp sites in Google before the years over.
Phone apps loose their appeal in favor of mobile optimized web pages.
Google Chrome OS does only slightly better than Ubuntu and fails to draw mainstream support.
The iPhone looses major market share in 2010 to Android.
Hyper local journalism fails to gain a sustainable business model beyond individual bloggers.