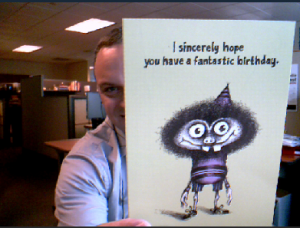 Is social media making personal moments less personal? This is a question that comes up a lot. I love these kinds of discussions and watching the ways that technology affects our everyday lives.
Yesterday was my birthday. Like most people *nearing* <cough> 40 <cough> I don't think too much of my own birthday's anymore.
I did get this cool card from my wife and kids. The card (pictured on the left) reads:
Cover: I sincerely hope you have a fantastic birthday.
Inside: If I weren't sincere, I probably would have just written on your Facebook wall.
Are the messages left on my Facebook wall insincere well wishes? I don't think so. At least not all of them. Some of them are.
I received about 4 dozen birthday wishes on Facebook (a couple of really lazy people just liked other people's posts), a few texts, a few emails, half a dozen tweets, 3 or 4 phone calls and 2 cards. Obviously much more online activity than offline activity, but I think I'm a little more unique in that regard than your average person. From personal experience based over the last 5 or so years I don't get many more calls or cards than that. I don't make a very big deal about my birthday. (Kids birthday's are much more fun.)
Facebook's easy because Facebook reminds us that our friends are having birthday's but I don't think it actually replaced any of the cards or calls I get. I've noticed a steady decline in the number of calls and cards I get as I get older but this year I noticed a serious spike in electronic messages. With the built in reminders on social networks and the ability to leave a simple note does increase the overall messages I received. Many of them from people I haven't spoken to in years. It was nice, I didn't find it insincere at all.
How To Reply to Facebook Birthday Messages
I've tried two different tactics in the past:
Basically ignored them all and hid under my covers until my birthday.
Accepted the inevitable and replied to every-single birthday well wisher.
I felt way better about the second approach. It took time but that's okay.
What's The Best Kind of Birthday Wish To Give on Facebook?
For me it was the private message. Some of the goofy videos or card/pics are fun but they are really canned and don't come across as personal unless they really know you and find one that's relevant. The best bet is to send them a private message wishing them a sincerely happy birthday.
Better yet, pick up the phone and call them.
What about you? Do you leave birthday wishes on Facebook? Do you lament not getting more birthday cards?