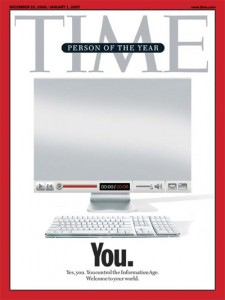 Would your company benefit from you sharing your professional insights? Do you have personal goals that would be easier to achieve if you were more visible in the social media space? Would your professional or personal life benefit from being known by others for what you do?
I mostly blog about how businesses can use social media in their strategy and the trends companies need to be watching. I thought I'd should address the personal benefits of using social media. This is the first of those posts.
I hate terms like "Personal Brand" and really only tolerate "Thought Leadership" because I haven't been able to think of anything better. Well today I did. Be More You. Feel free to use it.
How should you use social media personally? Be More You.
At Waggener Edstrom everyone takes a personality profile test. This is mine.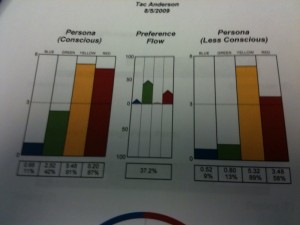 What you see on the right hand side is me in my normal preferred state. Blue is attention to detail/analytical, Green is support and group harmony, Yellow is high energy and extroverted, Red is action and assertiveness.
If you know me the colors match pretty well. The graph on the left is me when I'm "trying." This is how I wish to be seen as others. Notice anything? Basically I'm just more me.
This is what social media should do for you. It should amplify who you are. But its not a 1:1 ratio. I don't crank up my energy in social media because I'd overwhelm people. I turn up my green a lot to make sure I'm being conscious of others (I still struggle with this). I don't even try and be much more organized but I do turn up my red. The red helps me achieve my goals. It's my drive. But I don't hide anything and the rankings don't change, just the percentages.
A lot of people tell me they don't want to be a Chris Brogan or Robert Scoble. That's a really good thing. I know Chris and Robert and we don't need more than one of them.
Each one of us is unique and has value to add. Don't try and be anyone else, just Be More You. You may need to turn up your yellow so you have enough energy. You may need to turn up your red so you have the courage to put yourself out there. I don't know, I'm not you, you are.
The number one reason people don't use social media is fear. The most primitive part of our brain tries to stop us from doing anything that will cause us to not be accepted by our tribe. We are literally hard wired to fit in. Writing a blog that could be read by millions of people scrutinized and criticized is scary. No matter who you are (unless you're a sociopath) has to deal with this fear.
When I hear excuses like "I don't have time," "I don't have anything to say" I hear "I'm too scared" and "I don't think it's important." If you don't think its important I refer you back to my first three questions. If you're scared, that's fine, that's normal. If you weren't scared a little then that would be scary.
At some point Being More You requires not caring what other people think. At least not enough to stop you from doing what you need to do. That's what makes you, You and not Them.
Related articles by Zemanta