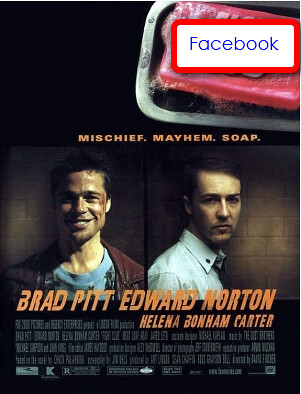 It's no secret that mom's have embraced social networking probably faster  than any other segment over the last 2 years. You couldn't throw a stick at a local PTA meeting without hitting a mom with a blog. And they have swarmed to Facebook.
In fact when we moved into our new house all the moms on the block new we were there and the ages of our kids within hours of our meeting our neighbor who then posted to her Facebook account. (I think our block has a group or something. I should probably check that out.)
There's even new research showing the sharp rise of social media moms:
How Moms Feel About Social Media
About 63% of moms used Facebook, Twitter and blogs this year, a whopping increase from 11% in 2006. The survey also found that the kinds of media moms spent … See all stories on this topic
Facebook The Movie. I've heard about this rumor for a while and refused to believe it. I mean seriously this is ridiculous. But then today this alert shows up claiming that the director of Fight Club, Seven and Benjamin Button. What do all of those movies have in common: Brad Pitt
Movie About the Creation of Facebook May Be Directed by Fincher
David Fincher, director of such hit movies as "Fight Club," "Seven," and "The Curious Case of Benjamin Button," is considering taking on the Facebook movie. … See all stories on this topic
I'm calling it now:
Zuckerberg will be played by Brad Pitt!
You think moms like Facebook now? Wait until they watch the movie staring Brad Pitt. Twilight ain't got nothing on Facebook the Movie.