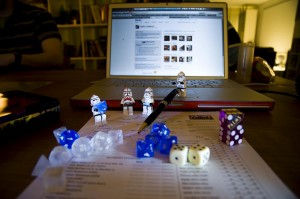 A manager once told me, "I don't want to capture what [my employees] know, I want to know how they came up with the solutions to the problems." We were talking about implementing some early Enterprise 2.0 solutions.
The technical solutions aren't the only hurdle we face today. It turned out that many employees don't trust the company they work at and this stops them from giving up that valuable knowledge.
Without trust you don't have sharing.
Without sharing you don't have collaboration
Without collaboration you don't have knowledge creation (assuming you have to work with others).
So how do you gain trust? You first have to trust.
This has been one of the major hurdles many corporations, governments and other entities have struggled with when it comes to social media. They don't want to blog because they don't trust their employees to not say the wrong things. They don't trust that their customers won't leave nasty comments. They don't trust those that they want trust from, and their customers and employees know it.  Instituting a company blog really has little to do with being transparent. It has everything to do with trusting.
You have to trust your employees. You have to trust your customers. If you don't how can you expect them to trust you. If you're fortunate enough to not have lost trust then consider yourself lucky. But if you feel that your company would benefit from increased trust than you need to start trusting. The actual implementation that you use will vary. You may start internally first. You may start externally first. You may start a blog, you may start a forum, you may start a wiki or any other number of tools but don't do it if you aren't willing to trust.
It's been well documented that people trust other people they perceive are like them. Glossy messages from the company don't seem real. Real words from real people like your customers, or better yet, other customers will have a much stronger effect than any press release.
This is why social media can be so effective. It's also why so many corporate blogs aren't effective. Rehashing the same marketing junk in a blog doesn't make it any more effective.
And this obviously isn't just about blogs but your Twitter account, Facebook page or whatever.
And it isn't just about marketing or external communications, it's also about allowing your employees access to social networking sites. It's about instituting social networking tools inside your company. It's about trusting your employees to problem solve on their own.
And it's absolutely about letting your employees fail.
New Comm Biz is open to guest posts as well as regular contributors: Blog With Us.
Photo credit 666666;">by 0063dc; text-decoration: underline;" title="Link to icedsoul photography .:teymur madjderey's photostream" rel="dc:creator cc:attributionURL" href="http://www.flickr.com/photos/icedsoul/">icedsoul photography .:teymur madjderey

Similar Posts:
# of Comments 3

# of Comments 7

# of Comments 3