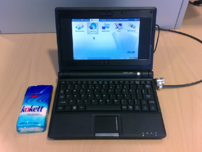 Image via WikipediaWhile I think all of these are pretty safe bets, I think the author got it right on. And in 09-10 I think that safe bets will be the only bets, but that still doesn't mean they'll pay off.
TG Daily - 2009: Year of mergers, platform changes and conservation
Analyst Opinion - 2009 is shaping up to be a nasty year, in fact it looks like 2009 and 2010 will be years we'll want to look back on as briefly as possible. But these years will also clear out of lot of the dead and dying companies that have been clogging up the market. I believe the U.S. and the technology industry will both emerge stronger than they went into this cycle. Let's look at some of the trends that likely will dominate 2009 and a few of the bellwether companies that currently define the tech market.
Technorati Tags: 2009 predictions, mergers, netbooks, smartphones, Linux, energy,