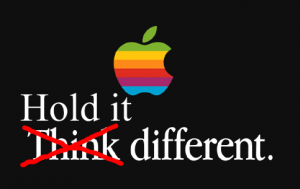 I'm kind of speechless. It's not often that I'm at a loss for words but what else can you say about a company that is incredibly successful despite it's complete disregard its customers.
To be fully transparent, Microsoft, T-Mobile and HTC are all clients of my employer Waggener Edstrom and competitors to Apple. (See my disclosures)
Some of my phones are on AT&T and yes there reception is bad but the reputation they are getting is not all their fault. I rarely drop calls on my HTC Windows phone and yet I constantly drop calls on my iPhone. And my Android phone on T-Mobile gets awesome coverage BTW. (Yes I have 3 phones, so what.)
But just when you thought Apple/AT&T reception couldn't get any worse, it just did.

Gizmodo has a post detailing the iPhone "Grip of Death" problem. Basically you drop calls if you hold the phone wrong. (Which is the way most people would naturally hold the phone.)
Apple (Steve Jobs) acknowledged the problem and offered up a solution: Don't hold it like that:
Steve Jobs Responds To The Antenna Issue: Hold It Different Or Use A Case
Apple Acknowledges iPhone 4 Reception Issues, Says Don't Hold It Like That
I've made no secret of my dislike and distrust of Apple. I'm really glad they're around to push design forward but I hate closed systems and I hate not being able to use a product the way I want.
When asked why I don't like Apple products I usually say "Apple's fine if you only want to use their products the way Steve Jobs wants you to use their product." I didn't realize how right I was and that this also extended to how you hold their product.
I've had an iPod since the 2nd generation version (the one right after the 3 buttons). And have always loved the iPod. I was a hold out on the iPhone until the 3GS but I finally broke down to see what it was all about. And it's a cool device but it's not *that* cool.
And iTunes is another problem. My wife and I both have iPhones, we both have iPods, we have an iPod Touch and my daughter has a Nano, we can't sync all of our devices because of the authorization limit.
I'm done. I'm getting rid of all of them. I'll take less pretty design and choices over a closed environment with little freedom any day. Even if by making those choices I create a bad user experience, so be it. At least it was my choice.
I'm amazed that people stick with their products. Maybe I'm just not cool enough. That's fine by me.
Maybe Apple really is the opiate of the masses.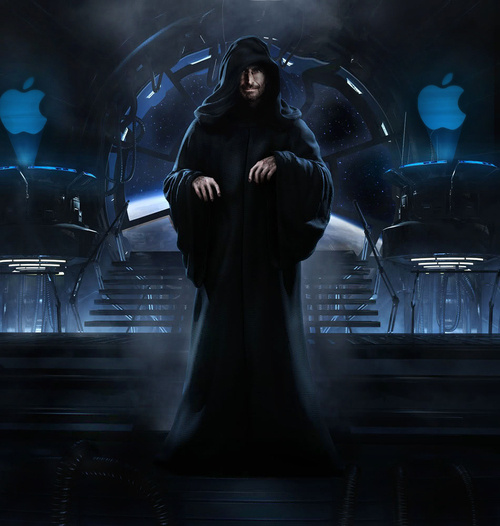 Similar Posts:
# of Comments 2

# of Comments 5

# of Comments 6