Influence the Influencers. If you've hung around in PR circles you've heard this phrase. But what does it mean in today's digital age?
Many of you may be familiar with TwitterGate the incident where TechCrunch posted internal documents from Twitter after someone hacked into their Google Apps account. Many people called foul. TechCrunch obviously realized the kind of traffic this would create.
What happened a few weeks later many people may not be familiar with. (TechGeist has a full write up on this.)  Twitter has a Suggested User List (SUL) that new users are encouraged to follow (Twitter's kind of pointless if you're not following anyone). The top three tech blogs, TechCrunch, Mashable and Read/Write Web have benefited greatly from being on this list. TechCrunch doesn't get that benefit anymore. A few weeks after the TwiterGate incident TechCrunch was removed from the SUL. What does being off that list mean?
Some may ask whether it really matters to TechCrunch if they don't have as many Twitter followers as their competitors.
Recently Mathew Ingram (MW) from Canada's Globe and Mail debated with Mike Arrington (MA) over that very fact on Twitter:
[This conversation has been edited to remove other strings and I did my best to get it in the right order]
MA @mathewi prblm isn't if we're on [the SUL] or not, it's that we're not on it and competitors are. hobbles us.
MW .@arrington: I can see Twitter wanting to apply pressure - but does it really hobble you in any significant way to not be on it?
MA @mathewi oh, it's relevant. twitter is shaping the press to be what they want. I've had incredible pressure put on me to "play ball"
MW .@arrington: but does the SUL really "shape the press" in any meaningful sense? do you care whether you have 1 million or 1.5m followers?
MA @mathewi of course it does. we all fight for readers and traffic, then twitter reassigns stuff via the SUL to the people they like.
MA @mathewi it's about 20% of all traffic.
MA @mathewi what i've told Twitter privately is that tech press should never be on it, period. but they're using it as a reward and punishment
20% of traffic is pretty significant for a large tech blog. But what does that really mean?
Their traffic is actually going down. You can imagine their concern if this trend continues.
We've been told by online journalists that they find themselves caring if our clients Twitter accounts post links to their stories. Why? Because of the traffic it can send to their site. Some of clients have significant followings and the amount of traffic Twitter can send is not trivial. This is one of the reasons we encourage clients to engage with influencers on Twitter and use the channel as a way to amplify their own messages and 3rd party coverage.
But in my mind the debate is not about using social media as a reward or punishment. The real message here is that our companies are on an equal playing field. We are just as much media as the media. Companies are no longer at the mercy of the gate keeper. We have an equal voice and an equal right to be part of the conversation.
We need to evolve our thinking and our communications structures, from this:

To this: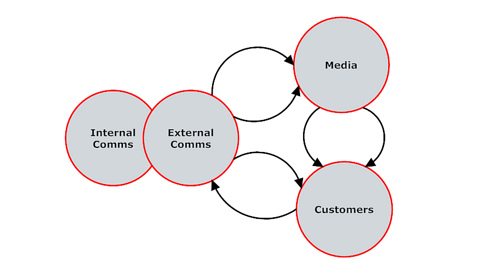 But to do this you first have to build out your channels with good, consistent content. You need a platform to host your content on and you need to develop the connecting channels from your content to your audience. But you have to do this in an authentic and real way. If you only shout marketing messages at people, they don't have to, and wont, follow you.
Companies exist to solve market needs. Why should our marketing be any different? Marketing itself is now media. If we want it to survive in this field of noise out there we have to create just as compelling content as the media we used to rely on.
The tables have turned. Which side do you want to be on?
Related articles by Zemanta