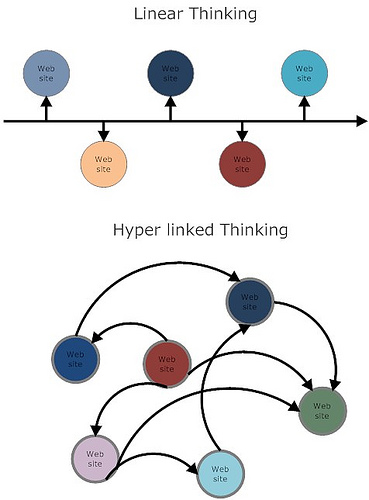 As you know I like to "think out loud" here on here on my blog (should I call it "blogging out loud"? hmmm). And lately I've been doing a lot of thinking about the relationship between people and content and how we think about both our Web presence as well as our content distribution.
Warning: I'm not a designer, nor do I play one on TV but it sometimes helps me to doodle. For what it's worth I thought I would share those with you.
For most marketers I think we have evolved our thinking from a linear view of traffic and content to a hyper linked way of thinking about it. We know that people don't enter ever site from the main page and they don't always travel along expected paths.
This still seems limiting to me. It still makes the assumption that people digest our content on our sites and that the goal of Web marketing is to get people to our site. That may be the goal if you're site has e-commerce or you are trying to gather leads (BTW I still don't think that's true but I won't argue it here) but shouldn't the goal of Web content be to engage and influence people wherever they are? That's hard enough to do by itself let alone trying to get them to our site first.
To me this seems like the digital marketing equivalent of flirting. You (assuming you're single) go to bars and parties to flirt with people and meet people that you may or may not start a relationship. You don't go to parties to find a wa y to bring people home with you so you can then flirt with them. That's just creepy.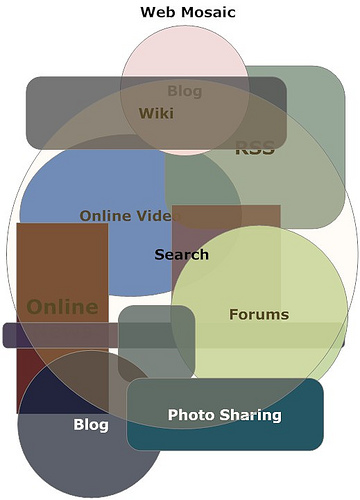 And what if you never want anything more than a friendship, why try and get them to your home at all? The same is true with your Web content.
Jeremiah Owyang has quoted Dell's Bob Pearson as saying that Google is your company's front page. And I mostly agree with that but I think it's bigger than that (bigger than Google? Yes.) Search is your company's homepage. Last year search meant Google but with recent disruptions like Twitter's search I don't feel Google covers it all anymore.
I've started to think in terms of a Web Mosaic.
Your Web site is wherever people might encounter your content and that includes stuff you didn't create. User created videos, fan photo's on Flickr, conversations happening on blogs and Twitter. It's all out there.
This is a rough draft, what do you think?
Similar Posts:
# of Comments 6

# of Comments 9

# of Comments 0