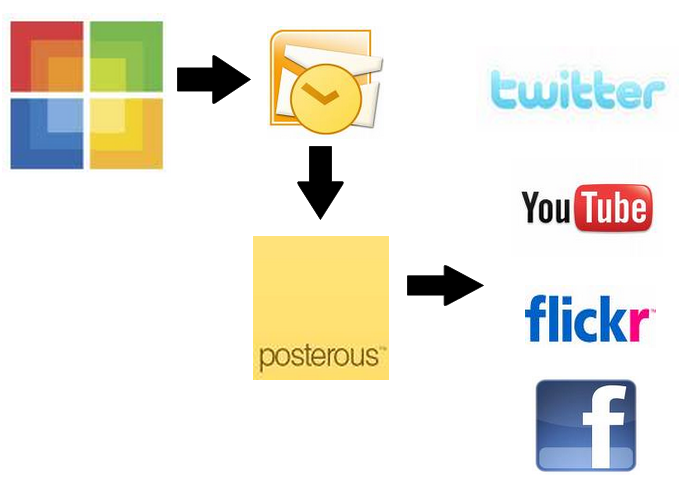 I've blogged here almost every day but not yesterday. But I did post, A LOT not just here. Why? Well because I was putting into practice some of the things I've been talking about here and consulting on with my client. I actually got to get my hands dirty, something I don't do much of lately when I'm just doing strategy for clients.
I got to help launch Microsoft's first store yesterday. I'll be down in California next week opening the Mission Viejo store too. It was a great experience. You can see everything I was doing here on the Microsoft Store Posterous site.
It's been great and we've had some wonderful success I'll share with you when it's all said and done (I'll also share some valuable lessons about dealing with haters and trolls) but for now I'll leave you with a clip from a post I wrote back in July:
New Comm Biz  Be a Social Media Black Belt with Posterous
If you're on top of things managing your social media you have a Twitter, Flickr and YouTube account plus a blog. If not go do that right now. Even for the most conservative companies out there, it's pretty standard now to have Twitter, Flickr and YouTube set up. If you don't and you think your company/client won't go for it, try asking, you might be surprised.

If nothing else YOU should have a Twitter, Flickr and YouTube account. If not, I don't know why you're reading this.

Now to earning that Black Belt: (For the benefit of those with uber anal legal departments we'll leave out blogs).

Assuming you now have all 4 of these accounts set up (Posterous, Flickr, YouTube and Twitter) go into your Autopost to Everywhere setting in Posterous and enable posting to these other accounts. You can also set to post to Vimeo, Facebook, Delicious, your blog and many other services, but we'll focus on the big three because they're the ones I use the most.

Now take a picture or a video on your phone and send to [email protected]. If you sent a picture, you just posted to Posterous, Flickr and Twitter. If it was a video you just posted to Posterous, YouTube and Twitter. Score!
Related articles by Zemanta