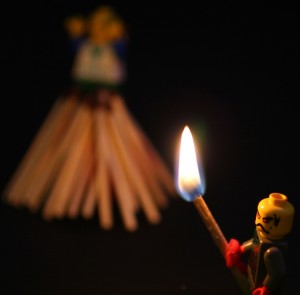 I have stated before that, while I don't know the guy and have never met him, Marc Andreessen is probably the entrepreneur of my generation that I most admire.
Today I came across a post on TechCrunch where Marc is quoted as saying that Old Media needs to burn the boats. I love this type of bold strategies. When Cortes came to Mexico he burnt the boats so they had no choice but to conquer, Marc says media companies need to do the same thing. The post is short and well worth your read but here's my favorite quotes.
We got to talking about how media companies are handling the digital disruption of the Internet when he brought up the Cortes analogy. "You gotta burn the boats," he told me, "you gotta commit." His point is that if traditional media companies don't burn their own boats, somebody else will.
Everyone knows this true (even if they don't admit it). At some point physical media will be too cost prohibitive to create at the mass market level. Print will be the new vinyl.
Andreessen asked me if TechCrunch is working on an iPad app or planning on putting up a paywall. I gave him a blank stare. He laughed and noted that none of the newer Web publications (he's an investor in the Business Insider) are either. ""All the new companies are not spending a nanosecond on the iPad or thinking of ways to charge for content. The older companies, that is all they are thinking about."
And finally the part that will end any business discussion with any old media CEO:
Print newspapers and magazines will never get there, he argues, until they burn the boats and shut down their print operations. Yes, there are still a lot of people and money in those boats—billions of dollars in revenue in some cases. "At risk is 80% of revenues and headcount," Andreessen acknowledges, "but shift happens." You'd have to be crazy to burn the boats. Crazy like Cortes.
Radical strategies like this either get you excited or terrify you (or both).  Could you imagine the NYT or WSJ stopping all print publications and going digital only? Wow, that would be amazing. Lay off everyone connected to print and forge ahead. It won't happen for years, maybe decades. Maybe they'll always keep some niche print production, but eventually most printed papers will go away.
But it's easy for us to criticize the media for not being willing to let go, but what about your business?  Every business has boats they're holding on to. And it's usually the part of their business that's stopping them from being truly innovative. That's the part of the business the startups love to attack.
In my world, agencies continue to submit to hourly billing even though it's a pain, unproductive and not conducive to providing the best work. Marketers refuse to give up on the CPM advertising metric (cost per thousand rate advertisers charge). It's broken and doesn't prove any type of business ROI. These are two boats I would volunteer to ignite myself.
What are your business boats? What would be the hardest thing to give up?
Photo credit via very little dave

Similar Posts:
# of Comments 3

# of Comments 17

# of Comments 6
Scridb filter