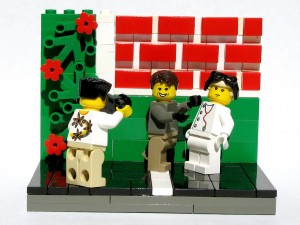 I've been a very outspoken critic of hyperlocal journalism as a scalable business model. One of my top 10 predictions for 2010 was that hyperlocal journalism wouldn't catch on. In 2009 I even went as far as comparing the quest for the hyperlocal journalism business model to cold fusion. Sure it sounds good in theory but it just doesn't work.
I Don't Believe in Cold Fusion or Hyperlocal
Call me a skeptic but I'm just not sold on the whole hyperlocal thing. When I was on the VC side of things I got to look pretty close at a few companies both on the news and the ad side of  hyperlocal. It's a really tough sell. The problem for me is scale. It's just not there. I'm not saying you can't have hyper local journalism. I just don't think you can build a scalable business off of it.
Then I read Marshall Kirkpatrick's post, Hyperlocal Heartbreak:
Neighborhood news aggregator Outside.in has been acquired by AOL, according to multiple reports this morning. Apparently it's being bought for less than the big pile of money that high-profile investors put into it, back when hopes were high. It's sad, really: the ambitious hyper-local news technology services of the last few years don't seem to be working out very well.
Outside.in, EveryBlock and Fwix are the three sites best known for building out automated collection and analysis of news about particular neighborhoods of cities around the United States. There is huge, exciting potential there - but it takes resources to develop technology and media sites like this. Maybe a shortage of resources is why none of these sites are the thriving hub of activity that many people hoped they would be.
Back in 2009 when I posted about my hyperlocal skepticism, my then colleague, @foleymo and a few others quickly pointed out to me the one and only counter point to my argument - the award winning West Seattle Blog. To call the West Seattle Blog a thriving business would be to call your local family run restaurant a thriving business. Sure it looks good on the outside and everyone seems happy but they're making razor thin margins at best. The West Seattle Blog is a family business that manages to get by on equal parts donations and ads that used to take donations but doesn't anymore.
@corybe @tacanderson I just saw the post 'cause of Cory's tweet. Dear Tac person, WE GET NO DONATIONS WHATSOEVER. ZERO ZIP. CORRECT, PLEASE.

Before you jump in to the comments and thrash me, I don't think this is a bad thing at all. It's just not a business that VC's and other big business types should hope to make killer returns on (again this isn't a bad thing). It's the kind of business that a family of journalists should run, make enough to support themselves on and be happy with.
But I digress from the point I wanted to make.
Distributed Communities
I think besides the problem of scale most people don't really care about their neighbors anymore. I don't. Not that I don't like them or that I wish them ill. I like them fine, and I'll lend them eggs and say hi as we walk past each other but that's about it. I care about my friends and and family and my community but that isn't necessarily the people I share a zip code with.
My community is a community of interest. I care about the people I know and interact with on Twitter and may have never met more than I care about the family I live next door to and don't even know their names. My community is a global community and the people I live around are practically strangers. We all behave well because that's best for all of us.
Every week the local paper for Issaquah is thrown on my driveway. It's free, I don't ask for it but I get it. And I usually throw it straight in the recycle bin or the compost bin if it got rained on and I left it out for several days, like I usually do.
I'm Not Heartless
I do care what happens in my neighborhood, because it will likely impact me. And I do know many of my neighbors but not that well and I can only remember a few of their names. The idea of hyperlocal sounds good but most of the stuff hyperlocal news sites write about I don't care enough to read. I don't care about what restaurants have the best wine (I don't drink). My wife doesn't eat seafood so seafood restaurants reviews are no good. My kids don't play school sports so I don't care about that. I hate politics so there's very little I care about to read there. All the good events (concerts) I want to go to usually happen in Seattle and I can read music blogs like SEA live MUSIC. Maybe I'm just an exception but given that hyperlocal hasn't caught on yet tells me that I'm not alone.
I'd be happy to be wrong (no skin off my nose). And @foleymo could be the one to prove me wrong. He's no longer my colleague, he went to work for AOL's Patch, the one organization that seems to be making headway in the hyperlocal news market.
Photo credit By Dunechaser
Similar Posts: