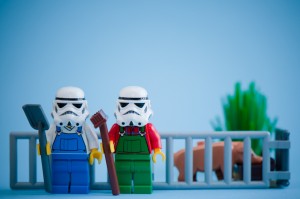 Content Farms have been around for a long time in one form or another. They are evolving rapidly and the advancements they make are starting to bleed over into the broader field of journalism, content and marketing. You can see this evidenced in developments like Computational Reporting.
When I'm *predicting the future* I find it helpful to look at the recent and recently past developments of an industry. With that in mind I'm sharing 10 posts that I found most interesting.
10 Posts On Content farms:
1 ) Content Farms: Why Media, Blogs & Google Should Be Worried
I've been writing a lot about so-called 'content farms' in recent months - companies like Demand Media and Answers.com which create thousands of pieces of content per day and are making a big impact on the Web. Both of those two companies are now firmly inside the top 20 Web properties in the U.S., on a par with the likes of Apple and AOL.
Big media, blogs and Google are all beginning to take notice.
2 ) Journalists Worried About Content Farms Are Missing The Point: The Web Has Always Been Filled With Crap
There's been a lot of fretting lately in the journalism field about the rise of so-called "content farms." These are operations like Demand Media or Associated Content (recently purchased by Yahoo) or even AOL's "Seed" experiment, that focus on generating a ton of content at very low cost, mostly aimed at ranking high on search engines. Last year, Wired Magazine ran a pretty good story covering the details of this particular business model. Basically, you find really cheap freelancers, tell them to quickly write up content on "popular" topics, pay them very, very little and don't worry too much about quality. The whole point is to rank high in search engines when people search on various topics.
Not surprisingly, this state of affairs worries some journalists who fear that these "content farms" are "killing" journalism. In fact, a group of online content syndicators are even talking about setting up an official "online quality" standards guidelines for internet content, even to the point of considering "accrediting" whatever is considered "quality" journalism.
3 ) Content Farms & The Death of Remarkable Content
Earlier this year, Michael Gray showed me all I ever needed to know about content farms when he wrote a Textbroker.com copywriting services review. Textbroker.com is similar to lots of other content programs where they offer "affordable content" at fixed, value meal prices. Michael shared his experience being very happy getting back content that was "good enough", even if it wasn't "flagship quality writing".
4 ) Content Farms 101: Why Suite101 Publishes 500 Articles a Day
When it comes to content farms, companies that churn out hundreds or thousands of new pieces of content every day, Demand Media has harvested most of the headlines over the past year. But it's not the only company out there betting on quantity of content - others include Associated Content (acquired by Yahoo! in May), About.com (owned by the New York Times), Mahalo (founded by Jason Calacanis, who sold his previous business Weblogs, Inc. to AOL in 2005) and Answers.com.
Suite101 is a relatively low profile site compared to the others mentioned above. Yet it produces 500 new pieces of content per day. I spoke to Suite101 CEO Peter Berger to discuss why it produces so much content, how it compares to Demand Media, and what Google is doing about content farms.
5 ) Your Guide to Next Generation 'Content Farms'

As traditional news outlets continue to lay off journalists, a new generation of companies is betting big on online content. Their approaches differ significantly, but are all built on the common premise that for online content to be profitable, it has to be produced at a truly massive scale. The proliferation of these so-called "content farms" — a name the companies predictably dislike — has raised the ire of journalists and pundits alike.
"If you want to know how our profession ends, look at Demand Media," wrote Jason Fry, a former Wall Street Journal columnist who edits Reinventing the Newsroom.
6 ) AOL Patch and MainStreetConnect Expand Hyper-Local News
It's difficult for media people to search any job site these days without running into an ad for AOL's Patch. It seems equally difficult to read media news sites without finding a feature story about Connecticut's MainStreetConnect. MainStreetConnect has appeared in recent days in both Columbia Journalism Review and Journalism.co.uk. Like Patch, the community news organization is hiring, though on a smaller scale as it expands from four sites to 10.
The attention being paid to them isn't surprising: These two companies are leading the charge to create a new, sustainable model for hyper-local, online community news. Both are pursuing a strategy based on scale and local reporting, both are still experimenting and looking for ways to generate revenue — and both have big national ambitions.
7 ) How is Yahoo!'s New Content Farm Working Out?
Two months ago, Yahoo! acquired Associated Content for an estimated $90-100M. Over the past few years, Associated Content has become one of the most prolific content farms (companies that churn out hundreds or thousands of new pieces of content every day). It produces 10,000 new pieces of content per week, which averages out to about 1,500 per day. This isn't as big an output as Demand Media, which at last estimate is doing 7,000 pieces of content per day. But it's three times as large as Suite101, which we profiled yesterday.
The acquisition increased the number of pages Yahoo! has on the Web by over 10% and brought Yahoo! back into the original content game, albeit in a largely unbranded way at this point. Let's look at how Yahoo! has been using its new farm…
8 ) Turns Out People Actually Do Like Smart, Long Form Content Online
You may have noticed that I tend to write a lot of posts for Techdirt each day. There are times when I consider whether it might be more useful to cut it back to just one or two posts per day that are much longer and more in-depth. I have ideas for more in-depth pieces, but I often don't have the time to set aside to focus on just those pieces. And, besides, according to folks like Nick Carr, people don't read long pieces on the internet, as it's trained our brains to only want short snippets. Or, in the parlance of commenters trying to be funny, tl;dr.
Over at Slate, they've apparently tested this assumption, with a project that gives journalists there four to six weeks off from their usual beat, to focus on working up one super in-depth piece (or, perhaps, a series of in-depth pieces on one subject). It's created some impressive (and long) works of journalism.
9 ) Writers Explain What It's Like Toiling on the Content Farm
"We are going to be the largest net hirer of journalists in the world next year," AOL's media and studios division president David Yun said last month in an interview with Michael Learmonth of Ad Age. Yun suggested that AOL could double its existing stable of 500 full-time editorial staffers in addition to expanding its network of 40,000 freelance contributors. Many of the jobs will be added to its hyper-local venture, Patch, while the majority of AOL's freelancers will work for the company's content farms — Seed and the recently acquired video production operation, StudioNow.
These two areas into which AOL is ambitiously expanding are the fastest growing sectors of the journalism market. Hyper-local networks like Outside.in and content farms such as Demand Media are flourishing. As Yun's bold prediction indicates, more and more journalists will end up working for new online content producers. What will these new gigs be like? To better understand, I reached out to people who have already worked with some of the big players.
10 ) How has social media affected search?
The practice of SEO is constantly changing, as people try and keep up with Google's algorithm and jump to the top of the search engine results page for your given keywords. The only problem with this is that really for the first time since the advent of social media, the face of SEO is changing. There has been lots of speculation that Google is worried about the advancement of techniques such as the Like button – not least evidenced by the fact that they keep bringing out every service under the sun, including social networks.
Join the New Comm Biz Facebook Page or follow along on Twitter.
Photo credit By kennymatic

Similar Posts:
# of Comments 6

# of Comments 0

# of Comments 2