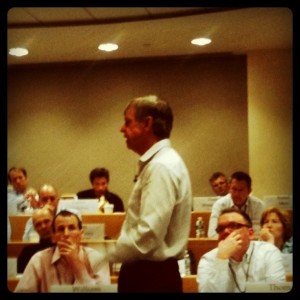 My HBS class had the great pleasure to hear from John Kotter today speak about Leadership and change. John Kotter started teaching at Harvard the year I was born. To say he has more experience with business and leadership than I have with life is not an exaggeration. John is incredibly passionate about his work. So much so that he gave up tenure at Harvard to go out on his own so that he could focus on leadership even more than he could at HBS.
Here's all the books he's written on the topic:
I took this video during our lunch break and if I had waited until after class I think it would have been a very different video. But I'll share why in my next post.
Here's the high points:
The World and Business are changing at an exponential rate, both in terms of pace, frequency and volatility.
This will only get worse in the next decade.
Leadership, not better management, is the only way to not only survive but excel in these times.
There is not enough leadership in your company or in the World.
As is my practice, here's my unedited, sub-5 minute video. And as promised it's better than the last one.
Similar Posts:
# of Comments 6

# of Comments 11

# of Comments 1