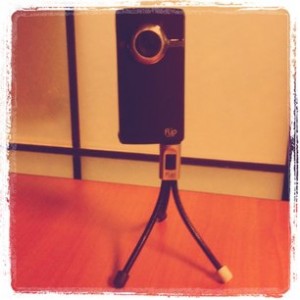 The Flip cam was a great device - a year and a half ago. I've shot some of my most successful client videos on a Flip.  I still use my Flip, in fact it's what I use to shoot the video posts on this blog.
Today Cisco killed their video star, but October of 2009 was when Cisco unofficially gave up on the Flip cam.
I wrote a post in Oct 2009, asking if Flip would respond to the opportunity opened up to it by Apple.  Basically, the rumors expected Apple to put cameras on their iPod Touch. With Apple's built in video editing software and wifi connectivity, why would you need a Flip cam when you could buy the iPod Touch for basically the same price?
How did Flip respond? They made the screen bigger and updated the software. w00p! They released yet another version but never wifi enabled the Flip or built in editing software and they didn't bring the price down low enough.
But they weren't just fighting Apple. Flip opened up the market for DIY, low quality video but there were other (and better) low cost camera options.
One of the complaints about the Flip was the audio. Doing interviews in crowded places gives you a bad audio experience, which is easily fixed by adding an external mic jack. But they never even did that. The Kodak Zi8

beat out Flip on both features, by adding a mic jack (not hard) and price.
It's sad really. I hate to see good products die but I especially hate to see good products die without a fight.
Here's a super quick video with some thoughts on the topic.
Similar Posts:
# of Comments 5

# of Comments 4

# of Comments 11