Be sure to join the New Comm Biz Facebook Page or follow the Twitter account.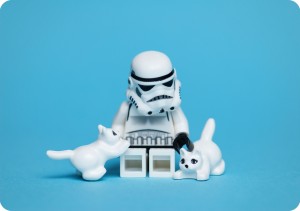 Developing strategy doesn't have to be a complicated exercise. It can be simple and fluid. In fact I would argue the more simple and fluid the better.
Over the weekend Lee Oden asked several us why strategy before tactics was so important. He received 44 different answers from some really smart and talented people. As I was crafting my response I thought I'd show how simple it could be to craft a strategy and in the process hopefully show some of the different components.
Here's a simple example I just made up:
I need people in my town to know about my new pet sitting business in order to grow new customers (Objective: Awareness).
People are very passionate about their pets so I need them to trust me with their pets and know why I'm better than a kennel service (Goal: Brand Positioning).
(Target Audience: People in my town who are passionate about their pets)
I want to grow my business through organic Word of Mouth by building personal relationships with potential customers (Strategy).
I'll use social media to find people in my town talking about their pets, I'll then offer tips and advice so they can see that I know what I'm talking about and know that I care about pets as much as they do (Social Media Strategy).
I'm building my website using WordPress so I have a blog and I'll also start a Twitter account and Facebook page (Tactics).
My Key Performance Indicators (KPI's) will be:
Twitter: followers, RT's, @replies and clicks
Facebook: Fans/Likers, comments
Blog: subscribers, comments, shares, page views (especially about and contact)
Business leads: Track where I'm getting the most leads from and who are my best referrers.
There you go. Your very basic social media strategy. What am I missing? Anything else in there I should add?
Obviously this gets more complex the larger the organization but we should always be fighting it from getting too complicated. Because this is something we should constantly be revisiting and adjusting.
Be sure to join the New Comm Biz Facebook Page or follow the Twitter account.
Similar Posts:
# of Comments 28

# of Comments 1

# of Comments 9
Scridb filter