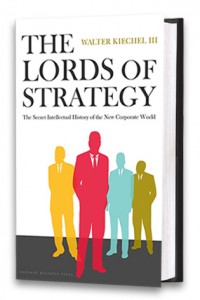 I'm reading this amazing book called The Lords of Strategy: The Secret Intellectual History of the New Corporate World


by Walter Liechel III. It's about the founding fathers of the business strategy world and how the big business consulting companies like the Boston Consulting Group (BGC), Bain and Company, McKinsey and others got started.
Liechel is the former Editorial Director at Harvard Business Publishing and the former Managing Editor at Forbes. Basically it's written by a guy who personally knew and interviewed all of these men, most of whom are still alive.
To me this is the perfect business strategy book because it not only tells the fascinating story behind the great men that started these companies, how they started and more importantly how the meaning and practice of business strategy evolved.
The side affect of this history lesson is that you actually learn what strategy, the various aspects and nuances of strategy, why it's important and the affect that it's had on the business world (both good and bad).
This isn't really a book review because I haven't read the whole book yet, I'm just barely getting started, but it is a recommendation to go grab it and start reading it. It's inspired so many thoughts just in the few chapters that I've read that I wanted to post this now as a point of reference for the many posts that are soon to follow. (I already have three written.)
If you'd like to follow along I suggest buying the book I'll be publishing longer posts here and shorter thoughts and questions on the New Comm Biz Facebook page. I'd invite you to join me there too.

Similar Posts:
# of Comments 7

# of Comments 6

# of Comments 11