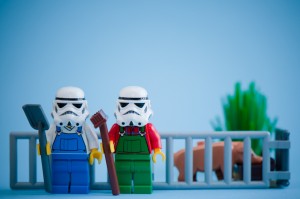 Last summer I wrote a 10 links post about the rising conversation around content farms. The topic hasn't gone away and neither have the content farms. On one side there's been conversations around automating the content even more and some people are asking if the content farms can't be used as a platform for more valuable, but still high output, content.
So here's 10 more links as the debate rages on.
1 - Why the Search Marketing Industry Must Adapt or Perish
Type a query into Google and, nine times out of ten, you'll find a result that does not seem right. It's not a bug or a website getting a lucky break from the Google gods — it's the result of savvy manipulation by a group of Internet hustlers known as search engine optimizers (SEOs).
I know because I am one. For the last few years, I've been pushing websites to the top of search engine results — websites that don't necessarily belong there in the eyes of Google. SEOs like to call their tactics making a site "search engine friendly," but what we're really doing is gaming the system and getting inside the algorithm that powers Google. It's what we are paid to do
2 - How Google & Bing Keep Spam Out of Search
Web spam: It's the badly written, plagiarized, keyword-stuffed, advertising-packed nonsense that no one wants to see in search results.
In fact, "content farms," as sites that foster and host such spam are called, have been a primary target of search engines, such as Google and Bing, for the past few months. As the content farmers' techniques become more sophisticated, so must search engine algorithms.
More and more search engines are fine-tuning their technologies to eliminate this type of content from search results. We spoke via e-mail to representatives from Google and Bing to learn what they're doing differently these days to combat web spam.
3 - Investors Going Short Against Demand Media
So there has basically been a lot of confidence that Demand Media's stock price will slide following its floatation. "(Short sellers) are active in this stock," says Gordon, who says the kind of short activity being seen in Demand is high.
The high level of short interest in Demand began even before Google announced it would change its algorithm to focus on "quality" content. Were hedge funds expecting such an announcement? Were they betting Demand was set to be disadvantaged?
4 - Content Farms Or The Smartest SEOs in the World
Today: 70 percent of the content you consume on a daily basis is crowdsourced. 30 percent of the content you consume on a daily basis is by someone you know. They can employ their contributors to help out big brands.  He doesn't chafe at the content farm title [You should. #justsayin]. If content farm is equivalent to creating content as a massive scale, that's what they are, just like eBay is ecommerce at a massive scale. [You are not eBay.]
5 - Blekko Bans 1.1 Million Spammy Domains Via New Algorithm
Search engine Blekko says they've banned some 1.1 million spammy domain names from their search results. The banned domains are the result of a new algorithm the company has developed that looks at both poor quality content as well as the types of ads that the domains include along with the content. It's part of their ongoing war, they say, against content farm and other very low quality content. It follows an action earlier this year where they banned twenty content farms from their results.
6 - DuckDuckGo Follows Content Farm Banning With Promoting wikiHow Content
Today, DuckDuckGo has started "hard wiring" wikiHow as the first result on its search engine results pages for how-to queries.
wikiHow founder Jack Herrick (who also ran eHow before selling to Demand Media) tells WebProNews, "As you know, there is tons of buzz on the web about what Google's next step will be with tackling low quality content from content farms."
Earlier this week, Blekko announced it had banned sites that it views as spam. These included Demand Media properties like eHow and AnswerBag. "Months ago curated search engine DuckDuckGo.com had already removed eHow, all Demand Media properties, and other sites it considered spam content farms from its site," Herrick notes.
7 - Are eBooks the new content farms?
They have little to no copyright detectors
It's true most eBook platforms review the content they receive, however it will be little more than a cursory check by automated software with thousands of eBooks published every day across multiple platforms. I tested this by publishing an eBook with content taken from my own blog on Amazon, this didn't set off a single detector or warning. You have to tick a box to confirm you have permission to use the content, but tick boxes have never stopped scammers from lying before.
Therefore there's nothing to stop people gathering content from the web, and creating an eBook. Someone could go to a blog, grab any content they want, label it as their own and make money from another person's content.
8 - Following Google's Algorithm Change, Mahalo Lays Off 10% of Staff
Mahalo, the human-powered search engine and directory, has been hit hard by Google's recent algorithm changes, site founder Jason Calacanis wrote in an e-mail to employees.
"The Google changes have led to a significant dip in our traffic and revenue. It's hard not to be disappointed since we've been spending millions of dollars on producing highly professional content," explains Calacanis. Due to the dip in traffic, Mahalo will lay off 10% of its staff and temporarily halt its freelance content production.
9 - Google Declares War On Content Farms, What's Demand Media To Do?
A few days ago I wrote a post expressing my hope that content farms might grow up into something useful and generally less sucky. Maybe I've been reading too many happy-ending fairytales to my daughters. But when I pull back from the actual content from Demand or Associated that makes its way to my search results (which is usually quite bad), I see a platform — and platforms, theoretically, are things on which you can build something lame or something good. If the content farmers help individuals with knowledge find questions (search queries) that need answers (topics too niche for large or mid-sized publishers to cover), it seems plausible that some individuals might create useful content.
10 - Is Google's New Anti-Content Farm Algo Actually Better?
We already posted Chas' interesting post about Google's attempt to "demote" content farms, and people are starting to explore whether or not the results are actually better. Alexis Madrigal, over at The Atlantic, used the fact that Google only rolled out the changes in the US and some remote proxies to compare results and noticed a clear improvement, at least in the search he tried.
Similar Posts:
# of Comments 4

# of Comments 2
Scridb filter