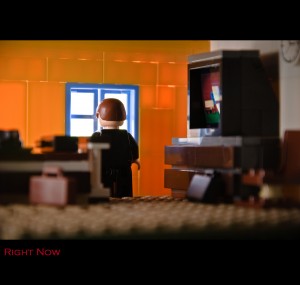 When it comes to media there are two things I have never paid for because it never seemed like it was worth the money: A newspaper subscription and cable TV.
I recently learned that I'm what you call a "cord cutter." No I don't run around cutting cords but I'm someone who doesn't have cable. Cord cutters get their marketing moniker because they cancel their cable subscription. Technically, I'm not a cord cutter because I've never had cable.
There's one problem with Internet TV: Most of the content on the Web sucks or is impossible to find. Clicker.TV is trying to help solve that problem but most of the content (at least the really good content) still comes from the studios and right now their business model is supported by broadcast, not by the Web.
I've polled my friends and networks and it doesn't seem at all uncommon for people to pay $50-100 a month for cable (or satelite). While "basic" cable only costs about $20 a month in most places that doesn't give you much. In order to get any of the "good" channels you have to pay much more. And the more specialized the channels, the more you have to pay. I know my soccer fan friends are paying at least $100 a month for the privelage of watching all the soccer they want.
Everyone I talk to would be happy to pay for just the channels they want but that of course is not an option. Now it seems like Hulu is thinking about pivoting their business model to do just that.
Most bloggers think this is the worst move in the World. My initial reaction was the same and while I'm starting to soften my view, I'm not convinced that it's not. But people also thought Hulu wouldn't get this far.
Back at the end of 2007 myself and others thought for sure that the writers strike was going to push Internet TV over the edge. While it started the process it wasn't the nail in the coffin some of us thought it would be. (See, I can admit when I'm wrong.)
Hulu has one thing going for it: quality content. Sure Netflix has quality content but it's still backstock. Hulu has the TV you want, at the most, 5 days later. For us cord cutters, that's not a problem at all.
Netflix is making some smart decissions and experimenting with adding Facebook's profile recomendations to your account. This is something that Amazon has also been experimenting with. Amazon may also become more of a direct competitor to Netflix.
As a cord cutter, I've become very reliant on the double threat of Hulu and Netflix. Hulu has some tough decisions to make and I'm afraid that their traditional media overlords will kill the goose before the reality of it's golden eggs can be realized. Of course the studios and the cable companies probably feel like the goose right now about to be cooked and that's got to scare them. Watching what the newspapers went through has probably shaken them.
There's a big difference between newspapers and broadcast TV. The difference between the top tier bloggers and the WSJ or NYT isn't as great as the media believes. The difference between Web only video and network TV is still really big (but shrinking very fast).
If Hulu continues their aggressive push to a subscription model this will open the field to other players besides just Netflix. But they're going to have to come up with some better content.
Photo credit by K Teezy

Similar Posts:
# of Comments 6

# of Comments 14

# of Comments 1