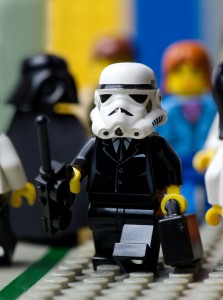 What is Social CRM? Is it a sales tool? Is it a support tool? The answer depends on your company and your business objectives. I can tell you this, Social CRM is not a Twitter key word search juxtaposed next to CRM data. (Sorry, personal rant.) And if you're wondering about the title, everything with me is about World Domination (more at the end of the post).
This morning Jeremiah Owyang and R "Ray" Wang of the Altimeter Group, released a report (which I've embedded at the bottom of this post) on the state and future of Social CRM. It's a great report you should all take the time to read. I also want to give Altimeter props for the use of Creative Commons and a bold new approach to analyst reports and their business model.
I particularly liked these 3 points from Jeremiah's blog:
For companies, real time is not fast enough. Companies need to be able to anticipate what customers are doing to say and do, in order to keep up. Although Motrin responded to angry mom's within 24 hours –it was too slow.
Companies are unable to scale to meet the needs of social. No matter how many community managers Dell and ComcastCares hires to support, they'll never be able to match the number of customers happening.  They need tools, and they need them now.
Customers don't care what department you're in they just want their problem fixed. Dooce's support problem with Maytag quickly became a PR nightmare –had the support group known she was an influencer (and what it means), they could have serviced her better.
Altimeter sees 18 use cases for Social CRM. I think we'll eventually see more than this but for now this is more than any company can handle.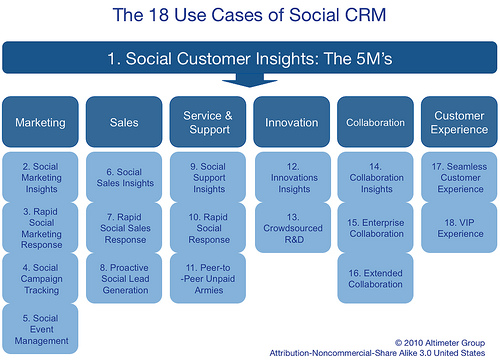 This is a topic that has been close to my heart for several years now. When I was at HP I started doing some very early Social CRM initiatives with our enterprise sales teams. The below image is the slide that Rob Brooks proclaimed was the most confusing (yet interesting) slide ever shown at Social Media Breakfast Seattle. This is the slide that shows a use case for Social CRM geared towards sales.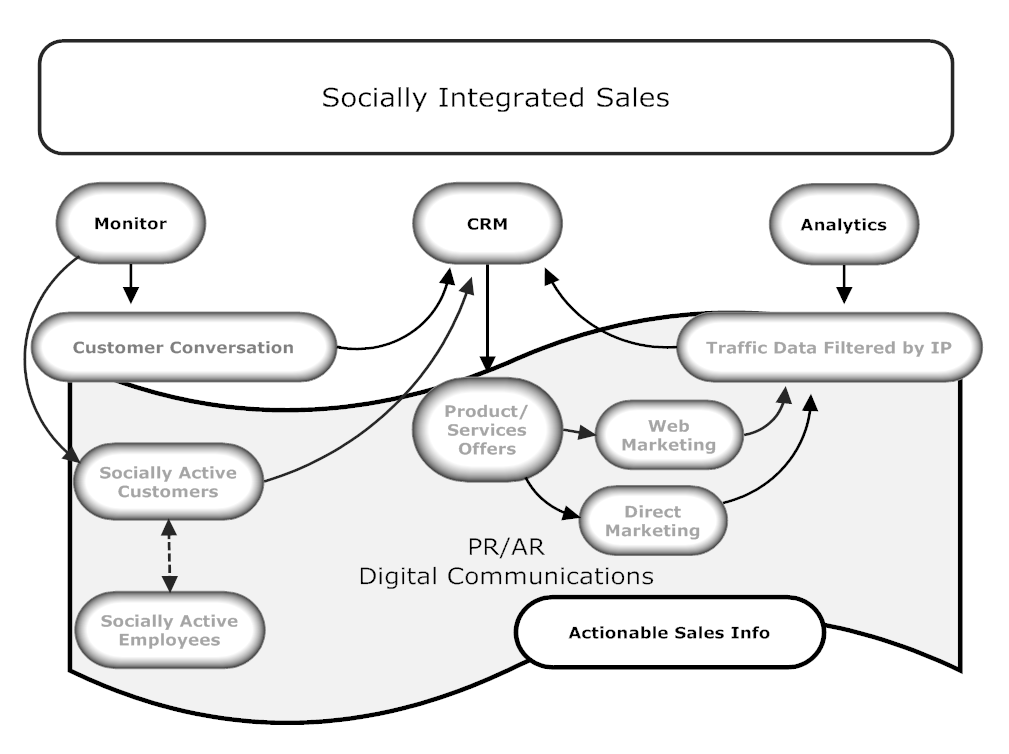 By pulling in CRM data, matching that with direct marketing and Web analytics data I could identify the enterprises that were most responsive to our marketing and potentially interested. I would then use LinkedIn to identify the key IT decision makers and the people in the org and from there try and find them on Twitter and blogs to see what they were saying about HP, our competitors or the industry.All of this was very manual and labor intensive but the size of the contracts were worth the expense. The tools didn't exist then and still don't, to do what I was trying to do.
This report gave me a very robust report I could give to our sales teams. Before they ever walked in the door they knew what we had sold them in the past, what offers or products they had showed the most interest in and what their sentiment was towards and or our competitors. Early tests showed a decrease in sales time an increase in renewal rates (for existing customers) and increased upsell of additional products and services. And this is only one use case of Social CRM, #6 of 18 identified by the Altimeter Group.
Social CRM has been widely discussed for years now, Social Business is starting to gain more attention. To me Social CRM is the first example of a Social Business application. One of the things I found most interesting about the Altimeter report came in the executive summary. The definition of Social CRM is surprisingly close to the definition I gave for Social Business last month.
As the "Godfather of CRM," Paul Greenberg notes, "We've moved from the transaction to the interaction with customers, though we haven't eliminated the transaction – or the data associated with it… Social CRM focuses on engaging the customer in a collaborative conversation in order to provide mutually beneficial value in a trusted and transparent business environment.
Now look at my definitions for Social Business:
The Social Business will be fully realized when social technologies are leveraged to build collaborative relationships across all company stakeholders. By leveraging social technologies in an open and transparent way businesses will also regain and build more trust among stakeholders. This increased trust will will result in greater knowledge creation, which the same social technologies have the ability to capture, organize and distribute at a yet to be seen level of efficiency. By building collaborative relationships with all company stakeholders using social technologies, businesses will be able to quickly create and capitalize more innovation.
I went even further and qualified Collaborative Relationships further:
Collaborative Relationships: Open transparent and mutually beneficial relationships between companies and its stakeholders.
Social CRM is being driven because it has real measurable impact on ROI. It also provides the first real opportunity to demonstrate the power of a fully functional Social Business. Social CRM is just the tip of the iceberg.
Finally I wanted to offer a word of warning and talk a little about the use of World Domination in the title and the use of the LEGO picture (which I've been using a lot lately). If you know me, I talk about World Domination a lot and if you know me I think LEGO's and Star Wars are together better than peanut butter and jelly, but Social CRM and Social Business do have a potential dark side. Just because you can track more than you ever thought possible about your customers doesn't mean you should. With this rush of data will come a customer backlash. Proceed, but proceed with caution.
Join the New Comm Biz Facebook Page or follow the Twitter account.
Similar Posts:
# of Comments 9

# of Comments 8

# of Comments 2
Scridb filter