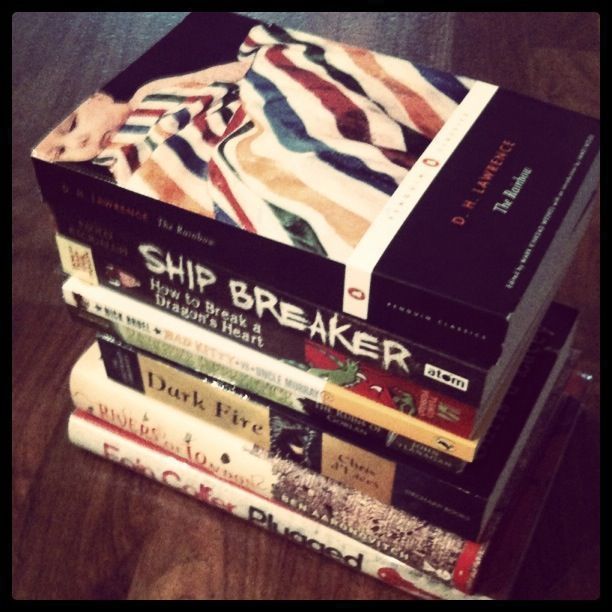 We're out and about in London today. The girls (@jenxmusic & @Emma_Lorene) are out shopping in Coventry Garden for Emma's birthday.
The first stop we made this morning was Waterstone's bookstore. It's a great place in a cool building and we picked up about 5 books.
The we went to lunch. Emma wanted burgers for her birthday and @prgeek & @danstweet recommended Byron, which serves "proper burgers." It was a great recommendation.
Then we went to Cecil Court, which is a little street famous for all it's old book shops. My favorite was Goldsboro Books Limited. Most of the book shops specialize in old books of various kinds but Goldsboro specializes in signed first edition books. The mostly cary British authors and have regular readings and signings with the authors. We picked up the new Eoin Colfer book, Plugged. It's nothing like his kids books Artemis Fowl and not appropriate for kids. But a good read for the parents.
Now some of you may remember that I bought my kids and I Galaxy Tabs with the Kindle app specifically so I would't have to buy physical books while over here in the UK. Well I ran into the three use cases that shoot a big whole in my plan.
1 - Old but not that old books:
If a book came out before ebooks really took off then thy aren't licensed for ebooks, only print books. So a lot of books my kids read like Harry Potter or The Last Dragon Chronicles or the How to Yrain Your Dragon series or the Rangers Apprentice series you can't got on Kindle. And I'm really bad at telling my kids no when it comes to reading. That's something I want to encourage.
2 - The British authors not available in the US:
I've learned the Brits love to read. Far more than Americans. Because of this and because of local market tastes, there's a lot of UK authors that get published here but don't make it over to The States. I'm not sure if you can get these authors on the UK Kindle store but I'm still on the US store for a lot of reasons. So if I want to read a UK only author, like Ben Aaronovitch and the Rivers of London or Moon Over Soho, then I'm going to have to buy the book.
3 - Hard covers are to books as vinyls are to records:
I've said it before that I still love hard back books and if it's an author I like I prefer to have first editions. This is why I love Goldsboro's business modem and think they'll be around a long long time. I know I will be a regular customer. It could become dangerous, actually. Just watching them wrap the dust jacket of your book in plastic before giving it to you was almost worth the price of the book.
We've only been here ~3 weeks and we've already bought 10 physical books not to mention the dozen or so Kindle books we've bought so while we've cut our physical book purchasing in half we're just not ready to give up on physical books altogether.
(Posted via mobile app so please forgive any errors)
Similar Posts:
# of Comments 6

# of Comments 4

# of Comments 1
Scridb filter