Today my two worlds collide.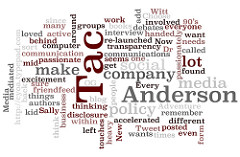 I've always had two slightly different (but overlapping) worlds I live in.  One is the Online Social Media/Marketing world that most of you reading this blog are familiar with. The other is as an evangelist for the Boise tech scene, which I cover on my TechBoise blog.
About 18 months ago I started TechBoise to fill a gap I saw here.  That has lead me along a wonderful path where I have met some of the smartest and best people. It has been a truly humbling experience.
Shortly after starting TechBoise and getting out to meet people I got an email.  Mark Solon of Highway 12 Ventures liked what I was doing and wanted to meet with me.  I'd worked with enough start-ups to know that VC's typically don't email people out of the blue.
Highway 12 and Mark were different though.  This is the most accessible, engaged firm I've ever met. Mark has been a great mentor to me.  He has gone out of his way to support TechBoise, make introductions for me, listen to my crazy ideas and answer my stupid questions.
Today I'm excited to announce that I'll be joining Highway 12 as an Entrepreneur-in-Residence (EIR).  EIR is kind of a vague term that has several different applications.  Wikipedia has a general definition here.
Basically this will be a knowledge exchange.  I'll be advising Highway 12 in the areas of Web 2.0/Social Media and Marketing.  I'll participate in the due diligence process and help out their portfolio companies where appropriate.  In exchange I get an inside view into the world of Venture Capital. I'll get to do my two favorite things: meet interesting people and learn new things.
I will not be leaving HP, this is something that I'm doing on my own and is not a conflict of interest with work.  My management knows about this and is supportive. They realize that value that I can bring to my job being out there on the front lines seeing what's coming up.
As usual I will share with you what I can about what I learn but will obviously respect all companies confidentiality. If I ever write about a company Highway 12 is working with I'll be sure to do so with full disclosure.
Here's the officiall media release.
Highway 12 Ventures Gets Serious about Social Media
Rocky Mountain venture firm taps HP Web 2.0 Marketing Manager
to focus on Web 2.0 and Social Media Start-Ups
BOISE, Idaho (September 4, 2008)  With the increase in social media start-up activity in the Rocky Mountains, the opportunities for early-stage funding are increasing.  Highway 12 Ventures, a leading VC firm investing in high-growth, entrepreneurial companies in the Intermountain West, has brought Tac Anderson on as an Entrepreneur-In-Residence (EIR) to focus on new opportunities in this fast-growing emerging sector.
Anderson is a frequent speaker and nationally recognized expert on social media and Web 2.0. He is actively engaged in driving social media initiatives for both public and private enterprises. Anderson currently leads social media activities across Hewlett Packard's global enterprise unit for both internal collaboration and external marketing.
"Tac has passion and a vision for the future of social media. He has become a thought leader in this area and will be a great asset to our firm in evaluating and making investments in this fast growing sector," said Mark Solon, managing partner. Having founded multiple businesses in his career, he also has a keen sense of the challenges that start-ups face. Anderson also started the highly successful TechBoise blog, known as the voice of Idaho's tech community, and is active in his hometown's start-up and economic development communities.
About Highway 12 Ventures
Highway 12 Ventures is a leading early-stage VC fund investing in high-growth, entrepreneurial companies in the Intermountain West. With over $100 million under management, it is Idahoâlargest venture capital firm. Highway 12 Ventures is part of the Village Ventures nationwide network of venture capital funds. For more information call Denise DeCarli (208) 345-8383 or visit www.highway12ventures.com

Similar Posts:
# of Comments 1

# of Comments 4

# of Comments 11