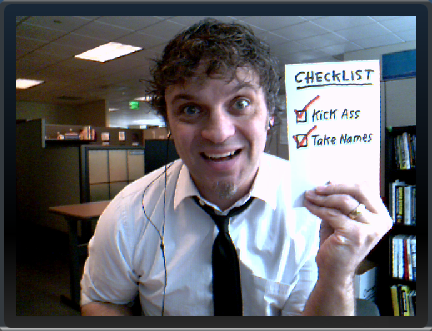 Yesterday marked my one year anniversary as part of Waggener Edstrom's Studio D group. So much has happened and yet it's hard to believe that its already been one year. Jen Houston jokingly tells me I've been here in dog years.
There's so much that's happened I don't know where to start. There's also so much on the client side or things that have not yet happened that I can't talk about. For all the happenings at Studio D you should follow our Thinkers and Doers blog.
In short, the people I work with are great. It's probably the highest concentration of raw talent and skills I've ever worked with. I have an amazing team, we have amazing clients and I get to do the coolest stuff every day. And as much as I miss all my friends in Boise, the Seattle social media and startup community is great.
What I've Learned
But the real question is what have I learned that will be the most valuable to you, my readers? A lot of what I've learned wasn't new to me but more a re-emphasis on things I already knew but didn't realize how important they were.
New
"Social media" won't exist in a few years. It will be totally pervasive and just be the way things are, and it won't look the way it does today. Twitter will still be a relatively niche community that only media and influencers use (so that won't change much), Facebook won't be the dominate social network forever, at least not in its current form (more on that later). In 5 years you won't be able to remember what it was like not to have collaboration platforms at work that extended beyond the firewall.
The changes being driven by social media are just the manifestations of a cultural shift.
Comm
If you are not passionate about the opportunities the above cultural shifts are bringing and the technologies that are enabling them (what's wrong with you?) find something you are passionate about and go do that. There are too many opportunities to do something you care about don't be caught doing something you don't.
Because if you're not passionate about this space it will be apparent and you won't be effective.
Biz
Business as usual is broken. I think we have yet to see the biggest shifts in business but it won't come as a revolution it will come from new upstarts running their business in a revolutionary way.
Things will continue to change, sometimes very rapidly, sometimes very slowly. But culture and passion won't.
Personally
I've learned I can do anything, I just can't do everything. I've been doing a lot at work and home and still manage to blog almost everyday, sometimes more. I have a goal to finish my book by the end of July. For the next three months I probably won't be blogging as much and when I do blog it will most likely be related to something in my book. Unless of course something really catches my attention.
If you would like to help me out here on the blog I am always looking for more contributors.
Every time people ask me how things are going or ask me about my job I find myself using the word amazing a lot. It has been an amazing year and I think this next year will be even more amazing.

Similar Posts:
# of Comments 9

# of Comments 11

# of Comments 6
Scridb filter