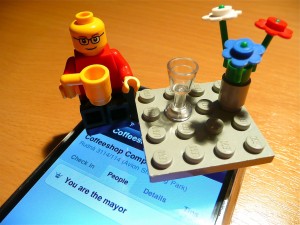 Geolocation as we know it today is not what we will know it as 5 years from now. Right now it's all games and coupons but the implications of geolocation go way beyond retail (although the impact it will have on retail shouldn't be underestimated).
Kristen Grant, on my team, pointed out one day that the overwhelming number of geolocation users are male. This is partly due to the geek, early adopter factor but it's also due to those safety concerns. Some people are (not unjustly) uncomfortable with broadcasting where they are to the whole World. But this will change.
Charlene Li likes to point out the fears raised when caller ID first rolled out. It was perceived by many as an invasion of their privacy. That has flipped 180 degrees now. Do you answer blocked or unknown callers? I don't.
It used to seem frivolous or even dangerous to give a teenager a cell phone. I freak out if my 12 year old daughter doesn't have her cell phone on her.
This reminded me of something I heard about how African women use SMS as a form of rape prevention. They use SMS to tell their friends where they are and warn each other of where guerilla military and other threats are and to avoid those areas.
Eventually it will be perceived as safer to check in so people know where you are then it will to be "off the grid" where no one knows where you are. I can even see private/closed communities where the members check in knowing everyone in the group personally or has gone through a screening process to get in.
I've got safety on the brain because it's GeekWeek here in Seattle and in addition to going to Gnomedex I'll be attending PII 2010. Privacy Identity Innovation.
Among the topics discussed at PII:
How emerging technologies & business models are impacting the way data is created, shared and aggregated
Effective approaches for building online trust with users
Ways in which user preferences and social norms are shifting
Changes in the regulatory landscape, in the U.S. and internationally
The role of anonymity and the future of reputation management on the Web
The latest developments in user-centric identity management
Look for more posts this week from me along this topic.
Join the New Comm Biz Facebook Page or follow along on Twitter.

Similar Posts:
# of Comments 11

# of Comments 1

# of Comments 3
Scridb filter