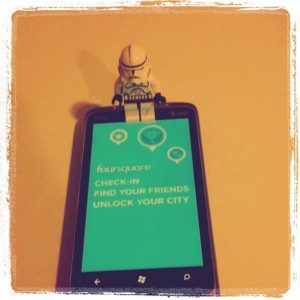 If, like me, your job is to keep up on the latest trends and then translate that into actionable strategies for business and you've been trying to find follow the mobile space, your head is probably spinning.
Even just this morning when I opened up my RSS reader I was bombarded with blog posts all about mobile. In fact lately it seems like you would be hard pressed to find an article that's not about mobile in some way or another.
So with the flood of mobile articles I figured I was well overdue for a 10 Links post.
1 - Social Media Participation Gets Rewarded in Vegas
Caesar's Entertainment resorts in Las Vegas are betting big onTopguest.
Starting April 21, Caesar's will use the platform to reward visitors at nine of the company's locations, including Caesar's Palace, Planet Hollywood Resort & Casino and Paris Las Vegas, with Total Rewards Bonus Rewards credits when they check in via Facebook, Twitter,Foursquare, Instagram and Gowalla on their mobile devices.
2 - Visa Launches Real-Time, Location-Based Discounts for Gap Customers
Visa is launching its own version of the location-based discount, in a move that rivals Facebook Places Deals, Foursquare and other mobile social networks hoping to capitalize on a shopper's physical presence in order to offer them bargains. But in Visa's case, no "checkin" is required. In fact, neither is a smartphone.
3 - Can Your Phone Sense & Send You a Deal?
This could open up the opportunity for a merchant, who has signed up a customer already to the Visa program, to offer up real-time discounts that speak to what the user is doing at the moment. If someone just bought gas in the morning, there's no need to offer a similar coupon for gas. But how about an offer for coffee or breakfast? That's what Visa can bring to the table, this history of purchases, along with the ability now for other merchants to leverage that in real-time.
This is where the market is going to go thanks in part to the growing ability to crunch huge amounts of data in real time as well as a emerging willingness to share more information from consumers. As mobile discounts for local businesses start to fly, it will be offers that have some sense, some intelligence on the user, which will have a better shot at getting noticed and used.
4 - Angry Birds Helps NFC Take Flight:
NFC or near field communication, as we've noted, involves much more than payments. It can used for a lot of things – unlocking levels in Angry Birds now included. Rovio is partnering with Nokia to offer a Symbian version of its popular title, called Angry Birds Magic, in which most of the levels will be unlocked through interaction with NFC tags and NFC-enabled phones.
5 - Android Users Get Location-Based Talk Radio App
By pinning audio contributions from users to locations on a map, startup Broadcastr has created a crowdsourced talk radio that changes what it plays to match its listeners' current locations.
Before the startup had even launched an app, it had already started gaining traction by partnering with organizations like The National September 11 Memorial & Museum and UNICEF. Since launching itsiPhone app [iTunes link] in March, the service has gained about 40,000 active users and collected about 8,000 stories. On Wednesday, it is launching its first Android app
6 - Check In App Loopt Introduces Loopt Qs, Location Based Q&A Polls
Loopt, a location-based checkins app along the lines of Foursquare, is announcing the launch of Loopt Qs today at Where 2.0 Conference.
Loopt Qs are "micro reviews" or polls that the Loopt community team will create around a place (like "What's the best thing to order if you're a vegetarian?" or "What's the price range of this restaurant?"), Users can share their answers with Loopt users and with friends on Facebook and Twitter, in order to get more answers to a question or to share a specific answer.
7 - Got an iPhone or 3G iPad? Apple is recording your moves
Today at Where 2.0 Pete Warden and I will announce the discovery that your iPhone, and your 3G iPad, is regularly recording the position of your device into a hidden file. Ever since iOS 4 arrived, your device has been storing a long list of locations and time stamps. We're not sure why Apple is gathering this data, but it's clearly intentional, as the database is being restored across backups, and even device migrations.
8 - Researcher: iPhone Location Data Already Used By Cops:
In a post on his blog, he explains that the existence of the location database — which tracks the cellphone towers that your phone has connected to — has been public in security circles for some time. While it's not widely known, that's not the same as not being known at all. In fact, he has written and presented several papers on the subject and even contributed a chapter on the location data in a book that covers forensic analysis of the iPhone.
9 - From Check-Ins To Recommendations: A Glimpse Into The Future of Foursquare
Foursquare gave its users a brief glimpse of this in its Explore tab, which it introduced last month. The Explore tab allows you to tell Foursquare what you're looking for, be it a restaurant or movie theater, and the app will help you find the closest alternative — basically it's a Foursquare recommendation engine. It bases its recs on where you've checked in, where your friends have checked-in, your loyalty stats, and so on.
10 - Tablets Fight for a Seat at Restaurant Tables
As the mainstream tablet war rages, a similar device battle is heating up in the restaurant industry.
Tablets that take orders, entertain guests and accept check payments are coming to a table near you. One company that is selling those tablets, E la Carte, announced on Tuesday that it has raised more than $1 million in funding from prominent investors like Y Combinator, Dave McClure and SV Angel.
Similar Posts:
# of Comments 1

# of Comments 1

# of Comments 6