What is a mobile device? The Zuck recently created quite the stir when he claimed stated that the iPad was not a mobile device. Kara Swisher and many others disagree with him, including the maker of the iPad, Steve Jobs. You can even take Kara's poll on the subject.
The argument that people make as to why the iPad should be considered "mobile" is based on facts like the OS that it it doesn't have a keyboard or, the most important argument, they carry it around. But since Kara said the point of her survey is for us to define "mobile" I'll take a stab at it.
@alexandrapeters @tacanderson the point is for you to define it

My background is in anthropological research so I believe that we should define mobile by how people use the device and I think most non-engineers will agree with me. Kara even tried to take a similar approach:
But actual civilians don't make these kinds of distinctions and, if one spends any time watching consumers use tablets, mobile is entirely how they think of it.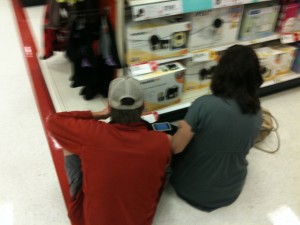 I don't care so much how they think of it but more how they use it. Let me use the same picture I used yesterday. See this couple sitting on the floor at target shopping for the best price and reviews on baby products? They're using the mobile phones. Are they using iPads? No, but we don't even know if they have iPads. The bigger questions to me is would they? Would you?
Let's assume you have an iPad with 3G, cameras and all the same apps on your iPhone. Would you use your smartphone or your slate device? There is no question in my mind that I would use my smartphone.
Let's look at how people use their iPads. They use them when lying on the couch. This is exactly how I'm using my netbook right now. I commonly see people with their iPad's in front of them on the table as they try and type away. (If you really want to annoy an iPad owner stare at their screen while they type. They can't hide it anyway they move.) Would you use your iPad one handed while driving? (You've all done it with your smartphones, don't pretend you haven't.) Seriously would you, I'm curious if it's even possible?
Michelle, my coworker, argued on Twitter that iPad's are ubiquitous on the NY trains.
@
tacanderson
it's omnipresent on ny commuter trains now... why does it come up short for you?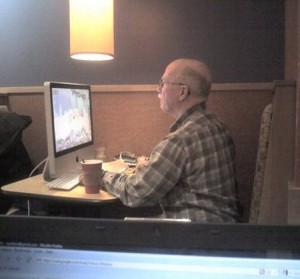 You mean while they're sitting down? The same way people use laptops on planes? Now there is an argument that you can use them while standing up, like a Kindle. Okay, I freely admit that iPads, and slate devices are *more* mobile than netbooks. But netbooks are more mobile than laptops which are more mobile than desktops but the Panera iMac guy seems to think his desktop is plenty mobile.
To me a mobile device is something you would use while mobile, aka walking around and if I had to pick a feature as part of my definition something you would put in your pocket not your bag.
I also ask, If you could only choose 2 devices, a smartphone, a slate device and a laptop/netbook and one of them had to be a slate. What would your other device be? And for the sake of argument let's assume that silly phone function isn't relevant. Most people I ask would choose the smallest two. Which tells me that slate devices are replacing computers not smartphones.
It's a blurry line for sure and honestly in a few more years all of this may be a pointless argument because pico projectors will be integrated in our phones and virtual keyboards will turn our smartphones into the only device we need.

Similar Posts:
# of Comments 10

# of Comments 3

# of Comments 14
Scridb filter