The two main drivers of search are, news and finding something you already know exists.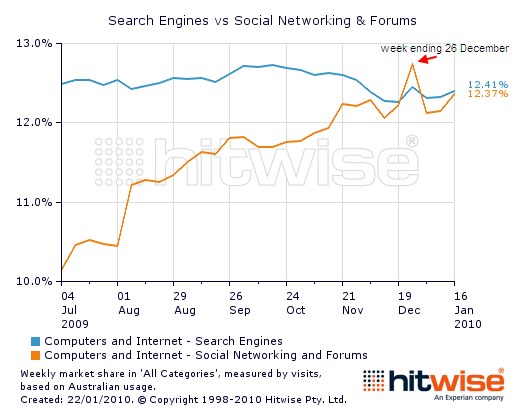 I recently wrote about how in an apples to oranges comparison bitly was challenging Google. One commenter thought I was a loon or a complete idiot for trying to compare the two. In all fairness I may not have explained why the two are worthy of being compared. bitly and Google both have the same purpose: deliver you to a useful website. That's it. The difference is that one is performed by search queries the other is initiated by a recommendation.
Read/Write Web reports on some coverage from HitWise
Social networking climbed fast this year, and Hitwise says it just peaked over search for a few days during the communication frenzy of Christmas. Take that, Larry and Sergey - Mark and Ev are right behind you.
Social Recommendations
When news breaks we are turning to search engines less and less. We are turning to each other and the real time results of social networks more and more. For breaking news I know that I'll find a relevant link on Twitter and an outdated news story on Google. I only see one reason this trend will stop (which I'll get to in my last point).
Better Curating
With so much data out there, curating is going to be a huge trend this year and good curators will be in high demand. The tools we have now for bookmarking (delicious & diigo), favoriting (Google reader and Twitter), listing (Twitter and Listorous), and storing offline (Instapaper and Evernote) are constantly getting better making the need to go to a search engine irrelevant.
Lack of Search Innovation
This is the biggest problem and the thing that Google, Bing and every startup in search is trying to fix. The reason that Bing and Google are tripping over each other to integrate real time data is they are trying to get us all to come to them first when we here of breaking news. And I think that over time it will pay off. With all the noise and rising levels of spam in social media search has an advantage. If they can bring you immediate, real time results, they have a chance since they already have a pretty good handle on filtering spam.
Of course they'll also get there by making some key acquisitions this year. Who are your bets on the first real time search starups to be acquired?

Similar Posts:
# of Comments 0

# of Comments 19

# of Comments 6