Now that I'm leaving HP, they are going to delete my neglected HP blog (unless I find someone at HP who wants to take it over). So there are a couple of posts I wanted to rescue from there and bring over here. Originally Published 8/5/08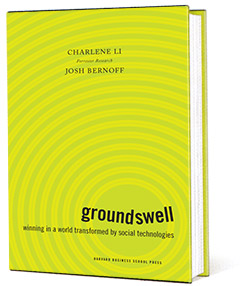 Many of you have probably heard about the new book, Groundswell: Winning in a world transformed by social technologies.
The book was written by Forrester's Charlene Li and Josh Bernoff and published by Harvard Business Press.  First off I have to say that it's a great book and you should go get it.  Second I wanted to shed a little light on a portion of the book that has to do with HP.
Alison Watterson, who is mentioned in the book,  is manager of Corporate Web communications and leads our corporate blogging initiatives.  Among her other duties she runs a group called the Community Core Team (of which I'm a member).
This group is fascinating to me for several reasons. First off it is one of very few truly cross organizational groups that is comprised of people with Web marketing jobs throughout the company. This means that everyone in the group participates in addition to our regular job responsibilities.  Each of us is passionate about social media and often (but not always) are engaged in our individual business units online social activity.
The group is responsible for reviewing and approving new blogs (not individual blog posts just brand new blogs).  The group also tackles new developments in the social media space.
HP was an early adopter of corporate blogging and started having company blogs back in 2004. At last count we have 55 HP blog (hosted on HP's platform), 12 employee business blogs (not hosted on HP's platform but still about HP) ranging from printing, marketing, software development to corporate social responsibility, servers, photography and research.  We have individual bloggers, group and team blogs as well as non HP guest bloggers. You can see all of these listed on the right hand side of this page along with links to our various communities and HP employees personal interest blogs.
To me this represents the perfect mix of corporate structure and Web 2.0 openness.  We have a blogging code of conduct and Alison is there to fill in the gaps, but beyond that no one is there to watch over the bloggers shoulder. (With 67 blogs and even more bloggers that would be a lot of shoulders to watch over.)
It's a great group to be involved with and learn from as we are constantly re-evaluating what's working, what's not and how to address new developments as they arise.
Related articles by Zemanta
Similar Posts:
# of Comments 1

# of Comments 7

# of Comments 4
Scridb filter