Why do I share so much on this blog? I blog almost everyday and I openly share what I learn here. Some may think that as a "consultant" I would be better off keeping what I learn to myself and only sell it to paying clients. Well if you're reading this you probably know that's not how I roll. Besides a big warm fuzzy feeling I get for sharing I'm actually still learning by sharing. What I learn is only one data point in a big sea of data. The feedback I get from all of you is just as important as the initial results.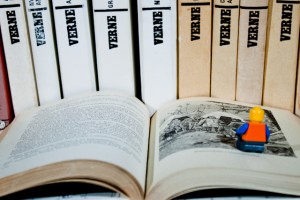 Now unfortunately I can't share many stats when working with clients. Many of them share their stats but it's not my place to take credit for or share their work. However I can share my stats for this blog and things I do here. By doing things here that's also how I learn.  I've taken the level of transparency I have about this blog up a level. Last week I gave you a full report on the first quarters performance, including traffic and subscriber numbers.
To continue that trend I want to share with you the results of the contest we just finished.
The Contest
Two weeks ago I announced a contest to win two autographed copies of Drive by author Daniel Pink (blog & Twitter). The contest was simple, I would giveaway one book a week to people who joined the New Comm Biz Facebook Page and answer one of the many questions I posted on Facebook from the book. You can see the list, with links to all 7 questions.
The Winners
I still haven't announced the second winner so I should probably do that first. I previously announced Hugh Lee as the first winner and I am now pleased to announce Colleen Carrington as the second winner.
The Contest Goals
My goal was to drive more engagement with current readers and convert more blog readers into Facebook fans not grow the blog readership or grow the Facebook fans beyond the blog readers. Because of that I only promoted the contest on the blog, Twitter and Facebook accounts. I didn't take out adds or anything like that.
The Contest Results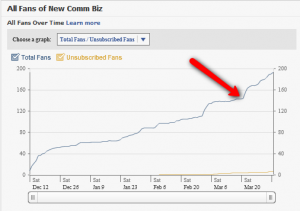 In total I wrote three posts about the contest over two weeks, posted about 10 times on Twitter about it, added some reminder links at the bottom of a few other posts plus the seven posts on Facebook. I didn't want to spam my readers about it but wanted to give it enough visibility.
From the time I launched the Facebook Page back in December until the time I started the contest was 16 weeks. We had 144 fans prior to the contest which equals 9 fans a week. When I launched the page I only sent out invitations to a small number of Facebook friends. I don't remember the total number but it was less than 50 of my total 800+ friends. In the two weeks of the contest we gained an additional 51 fans or 25.5 per week. If I did my math right (which is questionable) that's a 25% increase in two weeks.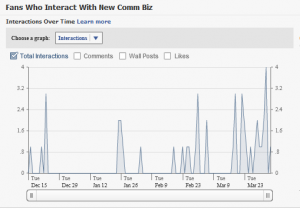 Counting my tweets those three blog posts received about 33 additional tweets. That's not very much, but I also never asked anyone to tweet for me or did anything else to "juice" the numbers. Any additional tweets, links or whatnot was purely organic.
There was also a significant increase in Facebook activity. This was pretty easy to achieve since I hadn't ever done anything to garner interaction. The seven questions on Facebook received 19 answers from 12 different people. There were also several wall posts by fans and an increase in likes.
The interesting thing to watch from here will be the level of continued fan growth and interaction even when there is no incentive to do so. I'll report back on that at some point too.
Key Takeaways
While the contest results weren't anything staggering they were telling. I've never done a contest before. It's not what people have come to expect here. One potential side effect of the contest was that March was by far the best month on the blog. We set a record month for page views RSS subscribers and unique visitors. I don't think it was because of the contest but I think the contest contributed to the sense of goodwill and sharing.
What Did You Think?
Like I said at the start of this post. Any learning is just a data point in time, it's only part of the story. I would love to have your feedback on how it went. Was it a fun change in what we usually do here? If you thought it sucked please don't hold back to spare my feelings.
Did you enjoy the contest?
You most likely did not participate, why not?
Would you like to see us do more contests?
What should I do better next time?
Next Steps
As I think about the content strategy for the New Comm Biz family of properties (blog, Facebook & Twitter) I know I need a specific strategy for each property but I haven't decided what that is. Any suggestions are welcome.
New Comm Biz is looking for guest posts as well as regular contributors: Blog With Us.
Similar Posts:
# of Comments 7

# of Comments 3

# of Comments 1