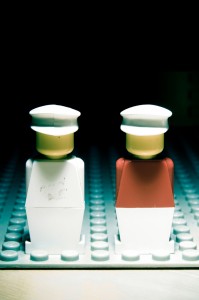 In Marketing we talk a lot about communities lately. We want to join communities, we want to build communities and as businesses (when we're honest with ourselves) we want to profit from said communities. And if we're upfront and honest with that community and have real value to add then it's usually okay.
But when we're not honest we can find ourselves in a world of hurt.
We hate people coming into our community with the goal of exploiting that community for their own gain.
One of the single most fascinating communities on the Internet has to be Anonymous. I won't go into a lot of detail about the group but in their own words:
We  just happen to be a group of people on the internet who need — just kind of an outlet to do as we wish, that we wouldn't be able to do in regular society. …That's more or less the point of it. Do as you wish. … There's a common phrase: 'we are doing it for the lulz.'
Recently, Aaron Barr, then CEO of the high tech security firm, HBGary Federal - they did high level tech security for the US government - decided he'd do some "research" on how not secure social media is by finding out the real identity of several influential members of Anonymous. The research wasn't just some well intentioned anthropological research it was a move to, at best, show how smart he was to his defense clients or, at worst, rat out the supposed identities of one of the biggest thorns in the governments side.
Needless to say, this did not end well for Aaron Barr.
Here's the complete saga from @arstechnica on how anonymous got revenge on security CEO Aaron Barr (using Bitly bundle) http://bit.ly/hxL9vj
If you don't have time to read the great Ars coverage, here's Colbert's take on things.
The Moral of The Story?
Don't mess with communities. If you don't have genuinely have the best interest of the community at heart, then you don't want to join or build a community. This is an extreme example but it is only one of many, many examples that range from mom bloggers to youth, to Anonymous.
Similar Posts:
# of Comments 0

# of Comments 5

# of Comments 0
Scridb filter