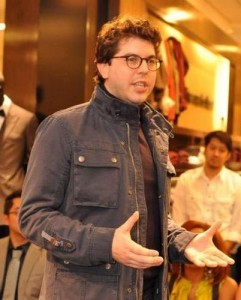 The first speaker that I was able to see at the Social Media for Defense and Government Conference was Dr Mark Drapeau. Mark is the Director, Innovative Social Engagement, Microsoft US Public Sector
What follows is my near real time interpretation of what Mark spoke on but I would add that I probably got some of this wrong and if it's not wrong it's probably totally out of context.
Mark's background: PhD in Animal behavior. Biology - Defense Policy - Innovative Engagement
Engagement isn't about what you do. Why does the EPA have a Facebook page? Is anyone really a fan of the EPA? What do your stakeholders want to hear about? Engage with the right audiences. Agile 24×7, engagement on the go.
Conversation: Multi-directional dialogueCrowdsourcing: Feedback, problem solving from unknownsCollaboration: A group of known people working togetherCo-creation: Shared ownership.
Caring for your community:Your audience is a communityWho is your communityAre you listening: Who are your 10 biggest fans?Are you talking about themProvide for themBecome their *pulse* over time.
5 Rules of community:
1) identify the prob
2) find the members
3) community engagement
4) enhancing the experience
5) have fun
How do you evolve your audience into a community?Social Flytraps - Engagements of any kind that 1) attract people, 2) allow them to 'eat honey' for a while
What's Mark been doing since he's been at Microsoft. SECTOR:PUBLIC online magazine: stories about how tech & innovation are changing the public sector & empowering social change. www.sectorpublic.com Geek 2 Chic charity fashion show: Geeks on the catwalk raising money for causes & networking w/ chics.Dorm Room of the Future: Interactive room w/ all the best tech in it, plus futon & a mini fridge.
- Do the innovative & unexpected "Your whitepaper's not going to go viral"
- Social media happens because something is so remarkable that the community feels compelled to comment and act on it via social media.
Mission -> Audience  -> Narrative -> Media -> Feedback
The evolution of Government 2.0: Surprise Experimentaton Solutions.
No social media solution should be dependent on any one tool or piece of software. The future of social media monitoring are integrated dashboard, not independent search tools. Social is increasingly a feature of business software.
Experiment, Monitor, Learn.

Similar Posts:
# of Comments 2

# of Comments 2

# of Comments 2