Be sure to join the New Comm Biz Facebook Page or follow the Twitter account.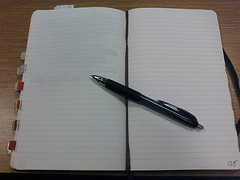 Why do I insist on keeping a notebook? To quote Dwight Schrute, "I keep secrets from my computer."
Actually there's just something about a blank page that inspires creativity and thought. For as digital as my life gets I still love paper and pen. This post has nothing to do with social media or the Internet except for the complete lack of either.
Anyone who knows me knows that I am very rarely without my notebook. I have had a planner of one kind or another since Junior High but they never seemed right. You have to fit all your thinking into their structure. Then a few years ago I started reading all these GTD hacks on blogs. So I started my own Moleskine system that I put together based on some of what I read. Here's a list on Amazon of the supplies I use: GTD Moleskine Hack Supplies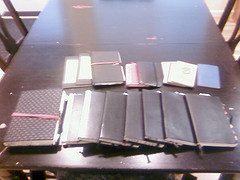 It's important to note that each of the notebooks you see above are different in their set up, they have evolved over time. While every notebook changes a little I have developed some pretty standard component.
Each month I start off with a page that I keep as a monthly table of contents. I fill this in as the month goes. This helps me find things quickly but it also helps me mentally organize my activities as I go.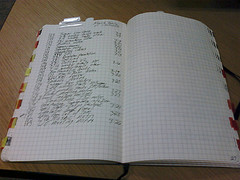 I then keep a weekly page that I break into 4 parts: Work, Projects, Personal and Misc (these 4 things change the most). These are kind of my big to-do items.
The dated tabs you (can kind of) see below are the monthly tabs and the plain white ones are the weekly tabs.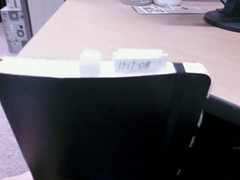 This is where I really give the illusion of organization. I break out sections like work, blog ideas, meeting notes, big ideas, etc. The topics change from notebook to notebook, depending on what I need. The red tabs are pages that I have a tasks assigned to. The yellow tabs are pages that I need to reference later.
Bellow is an example of of some notes (they're actually from my IgniteBoise01 presentation).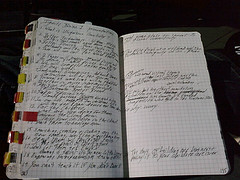 My current favorite notebooks are the soft cover Moleskine's. A notebook lasts me about 3 months on average.
I don't know if this is an analog leftover of my generation. (I actually took typing class on a real type writer). Moleskine's have become very popular during this whole digital revolution. I know a lot of Gen Y that still use notebooks. Maybe there's just a part of our brains that need analog.
For me the biggest benefit for having a notebook is the ability to get away for my computer and collect my thoughts.
Be sure to join the New Comm Biz Facebook Page or follow the Twitter account.

Similar Posts:
# of Comments 6

# of Comments 43

# of Comments 24
Scridb filter