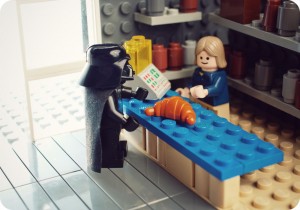 Following on my 10 Links post on the Future of Retail (yes I even used the same picture) I present to you 10 Links about the growing Mobile, Geolocation, Social Shopping, Coupon Craze.
My 10 Links posts don't draw any conclusions for you but instead I try and share with you some of the roadsigns I'm seeing as I scan the path to the future.
Coupons aren't anything new. Thanks to the recession they have found a new life in the social mobile world and startups in this space are raking in the VC money. I think there's more hype than reality behind these services but then again, I'm not the target market.
1 ) Report: Gap Deal Causes 37% and 51% Traffic Increase For Groupon.com
It was hard to avoid the buzz on August 19th, when Groupon offered a national deal with The Gap which offered purchasers $50 in merchandise for $25, a 50% savings. Social Times' analysis was that the promotion was a clear win for Groupon; assessing how well The Gap fared requires a more long-term view. Hot off the spreadsheets ofExperian Hitwise are some statistics that quantify some of the deal's social media activity. After the jump, what we learned.
2 ) Dell Made $6.5m Using Twitter… But That Has Nothing To Do With Small Businesses
That would be roughly around $3.2m per year. Okay, so let's suppose Dell made $3.2m using Twitter in 2009. Dell's revenue in 2009 was 61 billion dollars. Conclusion: Revenue from Twitter was 0.01% from their total revenue ($3.2m is around 0.01% from $61 billion). "Hey small businesses, Dell made 0.01% of their revenue from Twitter. You can do the same!"
3 ) TIME's 50 Best Websites 2010: Gowalla Picked over Foursquare?
Among today's location-based networks, also often referred to as "check-in" services due to the way they allow users to register their arrival at a particular location, you'll find some of the most innovative new ideas in mobile, if not in the entire tech industry itself.
Various experiments include everything from the addictive gameplay of Booyah's MyTown to the mobile coupons of Shopkick to the more social Foursquare, Gowalla, Brightkite, Loopt and others.
4 ) With Some Wind at Its Back, Loyalty Lab Looks for New Capital Infusion
Convincing online gamers to buy more hearts of romaine lettuce might sound like a tall order, but that's what 7-year-old Loyalty Lab recently managed for client General Mills, through a partnership with social gaming giant Zynga.
How? By smacking "Free Farm Cash" stickers on participating packages of General Mill's Green Giant Fresh produce — stickers that can be redeemed by Farmville users for five units of the game's virtual cash currency.
5 ) Location Is the New Shopping Assistant
Point Inside, a Seattle, Wash.-based company that provides consumer location-based services, today announced a Find-It application specific to the Meijer retail chain. The software, for both Android and iOS handsets, uses Point Inside's mapping solution to provide shoppers the instant location of any of the more than 100,000 items sold by Meijer. Currently in a pilot phase, the Find-It application is supported in four of Meijer's 196 locations in the U.S.
6 ) GeoPosty: A WordPress plugin that lets your site serve location-aware content.
The idea behind GeoPosty is that it uses the Quova database of IP addresses to find the locality of your site's visitors. Once that has been done, you can choose to have content appear to that visitor which is specific to them.
For instance, let's say that you are an artisan bread maker. People visit your site from all around the world, but you also have a shop. GeoPosty makes it easy for you to offer coupons to your local customers, who are likely to use them in store, without compromising your site's design for non-local users.
7 ) Implementing a Successful Coupon Strategy
Why have a coupon program? They started with coupons a year and a half ago and it went really well. They saw a lot of sales and inquiries. However, they saw their sales being dominated by coupons. To manage it, they became more exclusive with who they gave their coupons to.   In their paid search results they also had a ton of people using their brand. It dominated the SERPs. What was happening was that they were promoting old coupons.  By being more exclusive, again, helped them clean things up.
8 ) Who Wants Mobile Ads? Parents, Apparently
A new mobile marketing survey from Harris Interactive says that the demographic group most interested in receiving mobile advertising is mobile owners with children. This group is interested in receiving opt-in alerts from brands, says the study, and the adults in households with children are also generally more "promotionally active" than others, meaning more likely to take part in marketing promotions like couponing, discounts and daily deals
Those with children under 6-years old were the most receptive to this form of advertising, with 35% in favor of opt-in alerts that arrived via their mobile phone.
9 ) 7 Free Mobile Coupons and Shopping Apps
Technology is now available that displays store sales, steals-and-deals, rewards and money-saving mobile coupons directly to consumers' wireless web-enabled devices. Mobile coupons are quickly becoming the way of the future.
10 ) Meijer's mPerks Digital Coupon Program Marks Shift From Clipping Coupons To 'Clicking' Coupons
Citing convenience and savings, Meijer expects the new online tool to be highly popular with savvy shoppers and bargain-hungry customers.
Join the New Comm Biz Facebook Page or follow along on Twitter.

Similar Posts:
# of Comments 4

# of Comments 2

# of Comments 1
Scridb filter